Deaf Youth are cultural astronauts irresistibly drawn to explore new ideas, Different language, different cultures fuel their curiosity. The informality and ease with which they establish communications across. National and cultural boundaries makes them natural "Ambassadors" the youth are also idealistic and tend to make strong commitments which they pursue with sin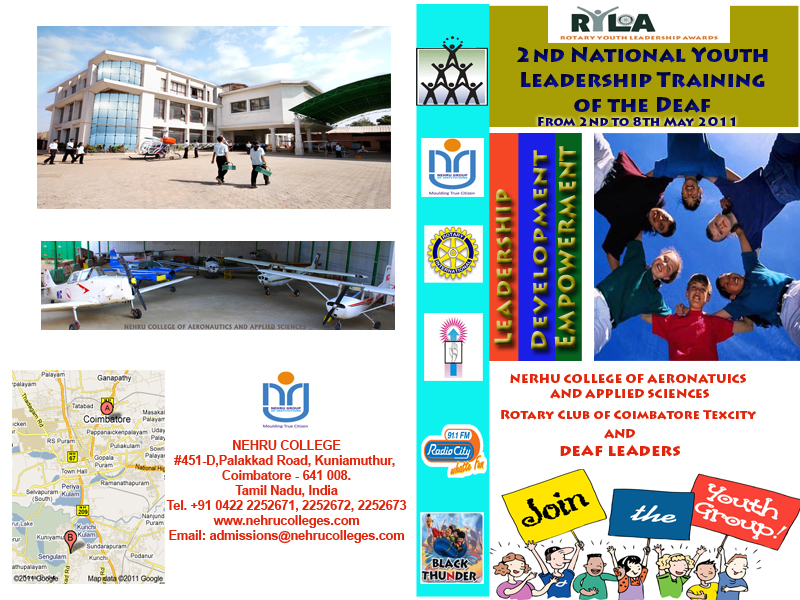 gle minded vigour.
Deaf Youth value the qualities of a good leaders and seek to promote such qualities in them. Since a Person who is effective in one situation may be less effective in another situation. In order to Foster community leadership, Nehru, Rotary and Deaf Leaders has instituted a program that might be described as a group laboratory.
The camp along with leadership experience also has talent night and campfire. It is an enriching and a life time learning experience for the youth.
Registration participation
The participants registration should reach our office on of before 15th April. The final selection of the participants with be a done on 20th April 2010 and it rests with the organisation. You are requested to select and send TWO OR FOUR candidate (Either boy or girl) deserving youth in the age group from 18 to 30 in your organisation. The no of participants are limited to 50
Travel Allow, Accommodation and Food for participants
We will provide Travel Allowance ( Concession 2nd class on Train & Bus fare) for only one participant who is from the organisation, extra participants from organisations should meet expenses of travel fares on their own. However, Food & Accommodation for 6 days will be provided for 4 or 2 participants from organisation. It extra person is willing to come, he or she has to bear the expenses on their own.
What We Offer
Encourage and assist Selected Deaf Youth- Potential Leaders by providing them With a training experience.
Recognize publicity the high qualities of the high qualities of the deaf youth who are serving their communities as Youth leaders.
Enhancing personality by
Leadership skills
Goal salting
Becoming a positive person
Building self esteem
Creating a better self image
Increasing self confidence
Yoga and meditation
Youth Forum
For other details please Contacts
Director – Placements
K. Lakshminarayan
Mobile No. 98435 – 47999
50 Seats only
Postal Address
K. Murali, Director, DEAF LEADERS
59, VOC Nagar, TVS Nagar, Coimbatore – 641 025
E-Mail : deafleaders@airtelmail.in / deafleaders@gmail.com
Mobile No. 98940 58898
Registration Form
Organisation Name _____________________________________________________
Address ______________________________________________________________
Mobile No________________________ / Phone No_____________________
| | | | |
| --- | --- | --- | --- |
| Sl . No | Name of the Participant | Date of Birth | Gender |
| | | | |
| | | | |
| | | | |
| | | | |
Travel details: Please Furnish all the relevant information your travel from your school to Coimbatore Bus stand / Railway Station
2.5.2011 _____________________________ Train/ Bus / Arrival time ____________________
(Before early Morning)
8.5.2011 ______________________________ Train /Bus/ Departure Time _________________
(after lunch )
I hereby declare that the Youth is attend the leadership training camp .
Name:
Designation:
Signature