5th India Deaf Expo 2017 in Kolkata
Date: 11th Dec, 2017 – 14th Dec, 2017
Venue : Eastern Zonal Cultural Centre , IB 201, Sector III, IA Block, Salt Lake, IB Block, Sector III, Salt Lake City, Kolkata – 700106. West Bengal, India.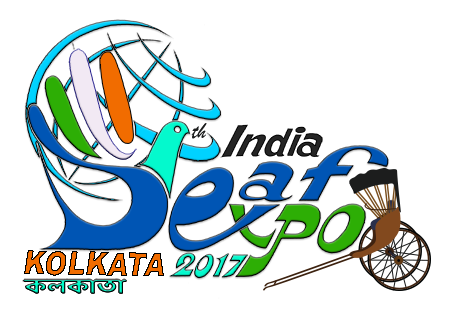 The line "With Proper Quality Education, Provision of Devices and Support from Community, the Deaf can excel in all fields" is always the main motto of this Conference.Based on this slogan, the goal of this conference is to promote the public awareness about the Deaf, its rich Culture, Sign Language development and to achieve National support for the Deaf giving them several opportunities to improve their life.
IIDFF and India Deaf Expo Start from 11th to 14th dec 2017
Fashion Show
Model is a fashion show in which participants have to display fashionable clothes by wearing them.
Miss Revolution Contest (Unmarried women) Age 18 to 30 Years
Mrs Revolution Contest (Married women) Age 18 years or above
Mister Revolution Contest (Unmarried men) Age 18 to 30 Years
Mister Revolution Contest (Married men) Age 18 years or above
Fashion Show Details in Sign Languages
Deaf Talent
Deaf's Got Talent follows the global Got Talent format, in which contestants audition in front of three or four judges. Up until the semifinal and final rounds, the judges decide whether or not a contestant advances in the competition. During the semifinal and final rounds, viewers vote on which contestants will advance.
Deaf Talent Details in Sign Languages
Conference
An International Conference On Innovative Technologies, Film Festival. Deaf Culture & Sign Language Awareness and Education of the Deafness is being organized on 11th to 14th December 2017 at Kolkata.
Technology and Deaf Education.
Social and Cultural Aspects of Deafness
Rehabilitation and Employment.
Human Rights & Community Based Rehabilitation and
Empowerment Youth and Women
Exhibition
An exhibition, in the most general sense, is an organized presentation and display of a selection of items. Exhibitions can include many things such as art, interpretive exhibitions, and also varieties such as more commercially focused exhibitions and trade fairs.

Contact Details
Registration:
Go to http://indiadeafexpo2017.org/booking/
for Further Information email info.iidffide2017@gmail.com or
whatsapp/message : +919748231607 or
Call : +919748502536