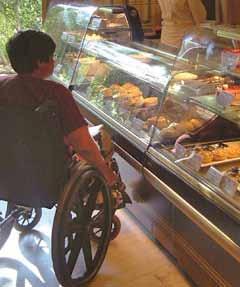 All these areas must internally be at one level with adequate circulation space for wheelchairs. All areas of the facility should be accessible, including the buffet and the bar counter. The facility, if not on the principle floor, should be accessible by a guest elevator.
Furniture
The furniture should not be fixed but movable, to allow creation of extra space, if required.
There should be an availability of seats both with and without arm rests. The seat height should range from 450mm to 475mm.
There should be a clear unobstructed space of 750mm under the table. Fancy table legs can inhibit a close access to the table by persons on wheelchairs.
Furniture should contrast with the floor and use of heavy patterns should be avoided on the furnishing.
Finishes
Adequate colour contrast must be provided between the floor and the wall and also between the wall and the ceiling.
Consider having the crockery and the glassware contrast with the table/ tablecloth.
Lighting in these facilities may range from 50 lux to 200 lux and should not create a glare.
Heavy carpet piles, heavy irregular, geometric or stripped patterns should be avoided. The flooring should be non slippery.
It is important that the restaurant have menu cards made available in Braille and in large print.
At least one person in each shift is to be instructed in basic sign language and the staff must be aware of how to announce food while serving a blind guest.
Apart from having the regular glassware and cutlery (which is usually large and heavy), some lighter and easy grip glassware and cutlery should also be made available in each restaurant.
Summary
ƒƒ All facilities should be located on floors that are connected by the elevator.
ƒƒ The furniture should be removable, and contrast in colour from the floor and from the crockery used. There should be a provision of chairs with and without arm rests. The tables should have a knee recess of 750mm height.
ƒƒ There should be lowered counters that are 760mm high at the bar.
ƒƒ There should be a maintained illumination level of 50 lux to 200 lux and the lighting should not cause glare.
ƒƒ Avoid thickly piled carpets and heavily patterned flooring or carpets.
ƒƒ Flooring should be slip resistant.
ƒƒ Menu cards should be available in large print and in Braille.
ƒƒ Easy grip cutlery and glassware with built up handles should be available.
ƒƒ Staff should offer to read out the menu and explain food layout on the plate to persons with vision impairments.
ƒƒ Where there is a self-service or buffet style layout, staff should offer to serve persons with disabilities at their respective tables.
ƒƒ At least one staff member in each shift should be able to communicate in basic sign language.
YOU MAY ALSO LIKE…
Ref :   Universal Design India Principles – ITC Hotels