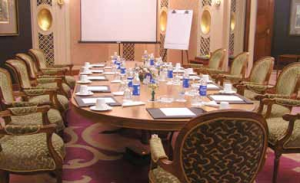 Most hotel properties have at least one Accessibility Business Centre and Conference room facility, both these facilities must have an accessible route leading to them. In the case these facilities are not situated on the principal floor, they must be accessible by guest elevators.
Conference Facilities
Conference and banquet halls should be at one level. The podium must be accessible to wheelchair users by a ramp. Have a lower lecture stand available with a maximum height of 800mm. The lecture stand must have a provision for local light. There must be an accessible toilet in the area where banquets are provided.
Furniture
Should not be fixed but movable, to allow creation of extra space, if required. Seats, both with and without arm rests, should be available at such facilities.
The seat height should range from 450mm to 475mm. There should be a clear unobstructed space under the table of 750mm.
Furniture should contrast with the floor and use of heavy patterns should be avoided on the furnishing.
The lighting at a conference facility should range from 300 lux to 500 lux, especially on the podium. The background of the podium should be lit in a way that a sign language interpreter on the stage is clearly visible.
Business Centre
The business centre should be all at one level. The entrance door to the business centre should be minimally 900mm wide. All tables should have a minimum knee clearance of 750mm. The boardrooms should have adequate circulation space for a wheelchair. Lighting in the boardroom should have a maintained luminance level of at least 300 lux, and preferably 500 lux
Summary
These should be located on the floors that are connected by an elevator and have accessible restrooms. There should be level or
gently sloping access from the corridor.
There should be provision of removable chairs that have a seat height of 450mm to 475mm. There should be availability of chairs with and without arm rests.
The tables should have a clear knee space of 750mm height.
All furniture should contrast from the floor.
There should be a maintained illumination level of 300 lux to 500 lux.
YOU MAY ALSO LIKE…
Ref :   Universal Design India Principles – ITC Hotels