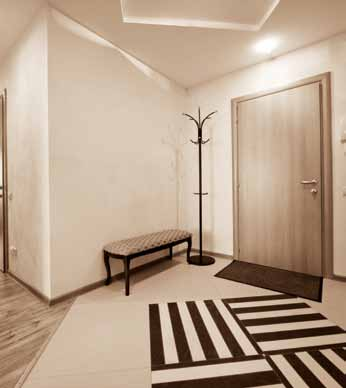 Provision of adequate general lighting and contrasting environmental features so as to highlight them against their background are two essential design features that must be incorporated adequately for persons with vision impairments to use the premises independently and comfortably. Providing adequate accessible lighting for people with visual impairments will normally ensure that the basic needs of all users are met.
Illumination
In order for lighting design to be effective, it should provide adequate illuminance. The relevant recommendations from British
Standard EN 12464-1 and Lighting Guide 5 (produced by Society of Light and Lighting, UK) are as follows:
| | | | |
| --- | --- | --- | --- |
| Area Maintained | Limiting Illuminance | Minimum Glare Rating | Colour Rendering (Ra) |
| Entrance halls, Lobby | 200 lux | 22 | 80 |
| Reception Desk | 300 lux | 19 | 80 |
| Circulation areas,Corridors | 100 lux | 25 | 80 |
| Stairs, Ramps | 150 lux | 25 | 80 |
| Gymnasium, Swimming Pool | 300 lux | 22 | 80 |
| Restaurant, Cafe | 200 lux | 22 | 80 |
| Conference Rooms | 300 lux | 19 | 80 |
| Business Centre | 300 lux | 19 | 80 |
| Computer Workstations | 300 lux | 19 | 80 |
| Kitchen | 500 lux | 22 | 80 |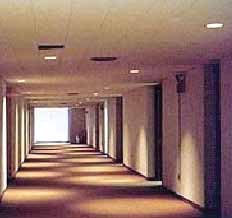 The following general points should be considered with regard to lighting;
Sudden changes in illuminance should be avoided to prevent adaptation difficulties.
Ensure that stairs, ramps and slopes are lit so that they can easily be identified when approaching in either direction.
Localised lighting for specific tasks may normally be better than increasing the overall illuminance necessary for all tasks in a multi-use area.
Minimum requisite illuminance should be provided and it should be uniform. Care should be taken to minimise glare.
Visibility and comfort are compromised when light fixtures are placed too far apart, creating non-uniform patterns of light and dark on the floor and walls. The areas with non-uniform patterns of light and dark, such as in the adjoining photograph are disorientating for persons with vision impairments.
Just as important as the lighting itself, is the choice of décor and ensuring that there is colour and luminance contrast between different areas, To assist colour discrimination, the colour rendering index of the light source should be at least Ra80, the recommendation for most interiors, and where feasible, lamps of Ra90 should be used.
Most users, including those with visual impairments, prefer natural lighting providing it does not create problems of glare.
Light coloured surfaces have a relatively high reflectance allowing light to flow around a space. Dark surfaces have the opposite effect and redecoration with darker colours can reduce illuminance and luminance. Light and dark surfaces will add interest to a space and may also provide adequate contrast to allow people with visual impairments to identify junctions between surfaces, as shown in the figure on the adjoining photograph.
Summary
ƒƒMaintain adequate and uniform lighting levels as indicated in the following table:
| | |
| --- | --- |
| Area | Maintained Illuminance |
| Entrance halls, Lobby | 200 lux |
| Reception Desk | 300 lux |
| Circulation areas,Corridors | 100 lux |
| Stairs, Ramps | 150 lux |
| Gymnasium, Swimming Pool | 300 lux |
| Restaurant, Cafe | 200 lux |
| Conference Rooms | 300 lux |
| Business Centre | 300 lux |
| Computer Workstations | 300 lux |
| Kitchen | 500 lux |
Avoid non-uniform patterns of light and dark on the floors and walls.
Avoid direct and reflected glare by selecting appropriate finishes and luminaries.
Use lighting to highlight hazards and obstacles in the circulation path.
Install luminaries that have a colour rendering index of at least Ra80
YOU MAY ALSO LIKE…
Ref :   Universal Design India Principles – ITC Hotels