Match highlights of Day 2
Bangalore, December 3, 2012 – Indian batsmen Continued Their Roaring form with a world record fastest ever century by vice-captain Ajay Kumar Reddy (B3) (131 runs in 48 balls) and captain Shekar Naik (B3) joining the party remaining unbeaten on 134 off 58 balls. The duo Together put on a double century partnership putting the English bowlers to the sword with Ajay hammering 27 fours and Reaching historic ton in only 34 balls, and Naik belting 23 Boundaries. India ended Their innings at 325 for 3 wickets. The score would not have been not even bigger but for some fine Fielding by the Englishmen.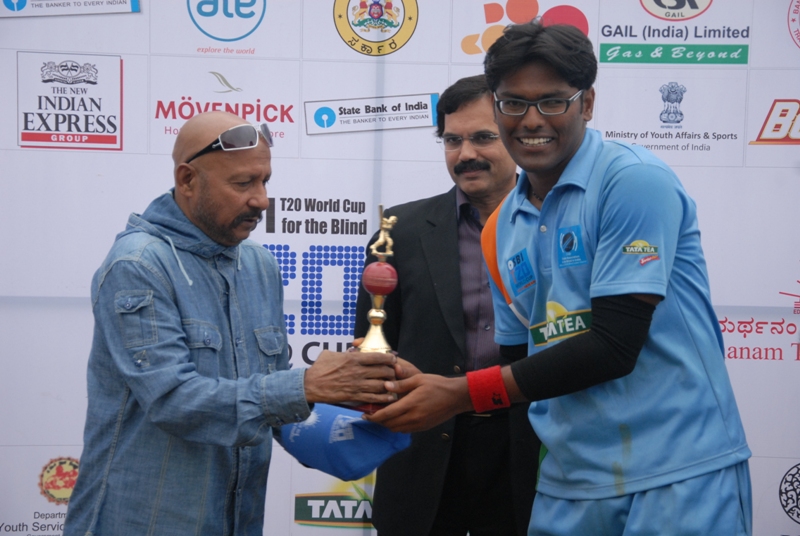 In reply, England Managed only 151 for 7 due to some excellent bowling by Ajay Kumar Reddy and Subash Bhoya (B1). Like in the earlier match Against Australia Indians Continued to became very agile on the field.
World record maker Ajay Kumar Reddy who and played some scintillating drives on either side of the V, said it took my a little for him to get used to the swing and PACE of the pitch and After that, he literally took the bowlers to the Cleaners. While Ajay's batting reminded one of Dhoni's helicopter shots, Shekar Naik excelled in historic paddle sweeps.
India next play West Indies on Wednesday.
Brief Scores:
India: 325 runs for 3 wickets (Shekar Naik 134 no (58); Ajay Kumar Reddy 131 (48))
England: 151 for 7 (Luke Sugg (B3) 48 (17); Hassan Khan (B1) 32 (18); (Ajay Kumar Reddy 2 for 17; Subash Bhoya of the two for 35).
Man of the Match: Ajay Kumar Reddy
Easy win for Sri Lanka
Sri Lanka rode on a brilliant century by Dimuthu Ravindra (B1) (134 in 64 balls) to hand an easy defeat to Nepal today. Nepal's Decision to put the Lankans to bat first provede a costly mistake as first Ravindra and then Deshapriya (B3) (75 in 38 balls) Hammered the Nepalese bowlers posting a strong 314 for 3 in the allotted 20 overs.
The target provede to became very Stiff for Nepal batsmen Were whos run down with 4 run outs and broke lost tamely by178 runs.
Brief Score:
Sri Lanka: 314 for 3 (Ravindra 134 (64); Deshapriya 75 (38)) (Aamar Oli (B2) 4-0-55-1); Surya Prasad (B3) (4-0-48-1);
Nepal: 137 for 6 (RUWA the Karunatilak (B3) (4-0-28-1); Sulochana Gunawardana (B2) (2-0-10-1)
Pakistan hammers South Africa
In The Other match, Pakistan handed South Africa a resounding defeat riding on a magnificent ton by Mohammad Zohaib Ghafoor (B3) Who remained unbeaten on 156 off 52 balls. He Was ably supported by Mohammad Jaffer (B1) WHO ALSO remained not out on 82 off 28 balls and Mohammad Akram (B3) chipping in with 69 off 27 balls. Chasing a huge 358 South African Could manage to score only 116 for 7 wickets. Pakistan won THUST by a margin of 253 runs – one of the Highest Ever Recorded in the Tournament.
Brief scores:
Pakistan: 358 for 2 (Mohammad Zohaib 156 (52); Mohammad Jaffer 82 (28); Mohammad Akram 69 (27);
South Africa: 116 for 7
Man of the Match: Mohammad Zohaib
Australia down Windies
After losing to India in the opener Australia Returned to its Winning Ways defeating West Indies by 64 runs. Asked to bat first, Australia scored 239 for 6 Aided by a captain's knock of 60 runs in 37 balls by Mathew horsey (B3), apart from useful contribution from Lindsay Heaven (B2) (59 in 50 balls). In reply, West Indies Were all out for 174 with some fine bowling by Raymond Moxly (B3) who took 3 for 38.
Brief scores:
Australia: 239 for 6 (horsey Mathew 60 (37); Lindsay Heaven 59 (50); Corrie Heberley (B2) 25 (14).
West Indies: 174 all out in 16.5 overs (Gregory Stewart (B2) 27 (15); Raymond Moxly (3 for 38)
Man of the Match: Mathew horsey.