Anbu Illam Salem
Cluny convent Anbu Illam is located in the village of Amanikondalampatti, Nattamangalam, 10 km. away from Salem town. It started on 1985. The entire area is rural and the people are educationally, culturally, socially and economically backward.
Anbu Illam activities were step by step grown towards the betterment of the various categories of people. Seven sisters are engaged in these ministries:
Mentally and physically challenged: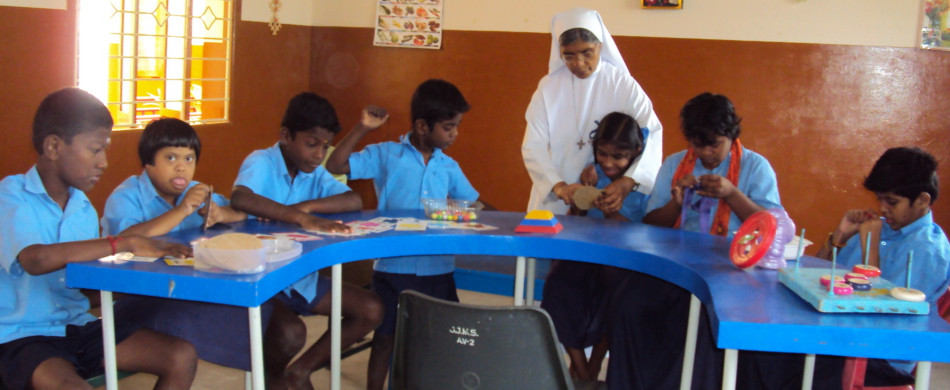 We give the physiotherapy regularly, primary education, yoga and activities of daily living with the qualified staff. Our vehicle goes every morning to bring these children to the centre and evening we drop them in their houses. These children are from poor families and they have nothing to contribute to the centre. We provide Homeopathy treatment every Monday; doctors come from Hanumans Medical College Hospital, Salem. A Psychologist Dr. Kannappan visits our centre once a month to teach the staff how to assess the mentally challenged children. We provide everyday midday meal and snacks at 4 p.m. We provide them vocational training such as wire bag making, candles, woolen mufflers and flowers etc., These children are very capable of taking part in District level competitions of sports, games and cultural programmes. Many of them have won their prizes. Every year the children take part in the world disable day celebration in the District level. We opened a workshop for the repairing of the appliance. Physically handicapped children who are able to manage themselves we sent them to different hostels for their betterment. We take care of their every need. We support and encourage in their studies. Now we are helping 60 children.
Day care centre:
Once in a month the parents meeting have been conducted. These children learn singing, drawing, and writing. We celebrate with them children' day, Independence Day, Christmas and children take part in games and cultural programmes. Since these children are with us during the day it is very helpful for the parents to go for their daily work.
Tailoring Centre:
"Self help is the best help" many young girls have been well trained in Tailoring and are given certificates. Now so many are working in different garment export companies and the rest are able to get tailoring machines through Government for their livelihood. Once a month life education and value education has been given to the young girls.
Type-Writing Centre:
Since 2 years we are running typewriting centre with qualified staff. We train the boys and girls to do the exam conducted by the Government. Our centre got good result last year.
Women Empowerment:
We form self help groups and organize meetings and seminars and helped them to get Government loans. Through seminars we motivate them about their rights and the importance of small savings. We have network with other NGO's collaborating with them for womens'day celebration and common issues etc.,
Health Ministry:
We provide medicines for the poor people who come to our dispensary. One sister nurse is full time in charge. Once in a way doctor will come and treat the patients. We organize medical camp for the locality. The patients are taught to take home medicines. Some of our health workers go for a house visit in order to help the people to grow more in general health and hygiene. We organize seminars to give awareness to the people.
Home for the Orphans, semi orphans, Sri-Lankan refugees, Prisoners children, HIV-positive parents children and very poor who are drop out from school:
We concentrate on these children's, their education, food, clothing, etc., now we have 30 children among them some are studying in different Government schools. They come together to study, play, for meals and for prayer. They are encouraged to do extra curricular activities. One lady is employed to take care of these children.
School drop-out programme:-
This is the scheme introduced by our Government – QUALITY EDUCATION FOR ALL – and it's followed by the regular school and for the school drop outs with the age group of 6 to 14 years. This is the new method of teaching ABL –Activities Based Learning, ALM- Active Learning Methodology. During our village visit and survey, we have screened out many children grazing the cows and goats or looking after their elder brother and sister without attending their school and many dropouts, not being able to spend for their studies. Here once again we came to an awareness "So little done and so much yet to be done, Development needs bold Transformation". Thus we decided to give the best to the least. Including the differently able children 50 students are being educated in this scheme.
CONCLUSION:-
By the grace of the Almighty God Anbu Illam has launched into these activities and programmes at present.
Contact Address

Amani Kondalampatti, Nattamangalam, Salem, Tamil Nadu – 636010 | India
Email : anbu_natta@yahoo.co.in
Phone : +91 427 2271154