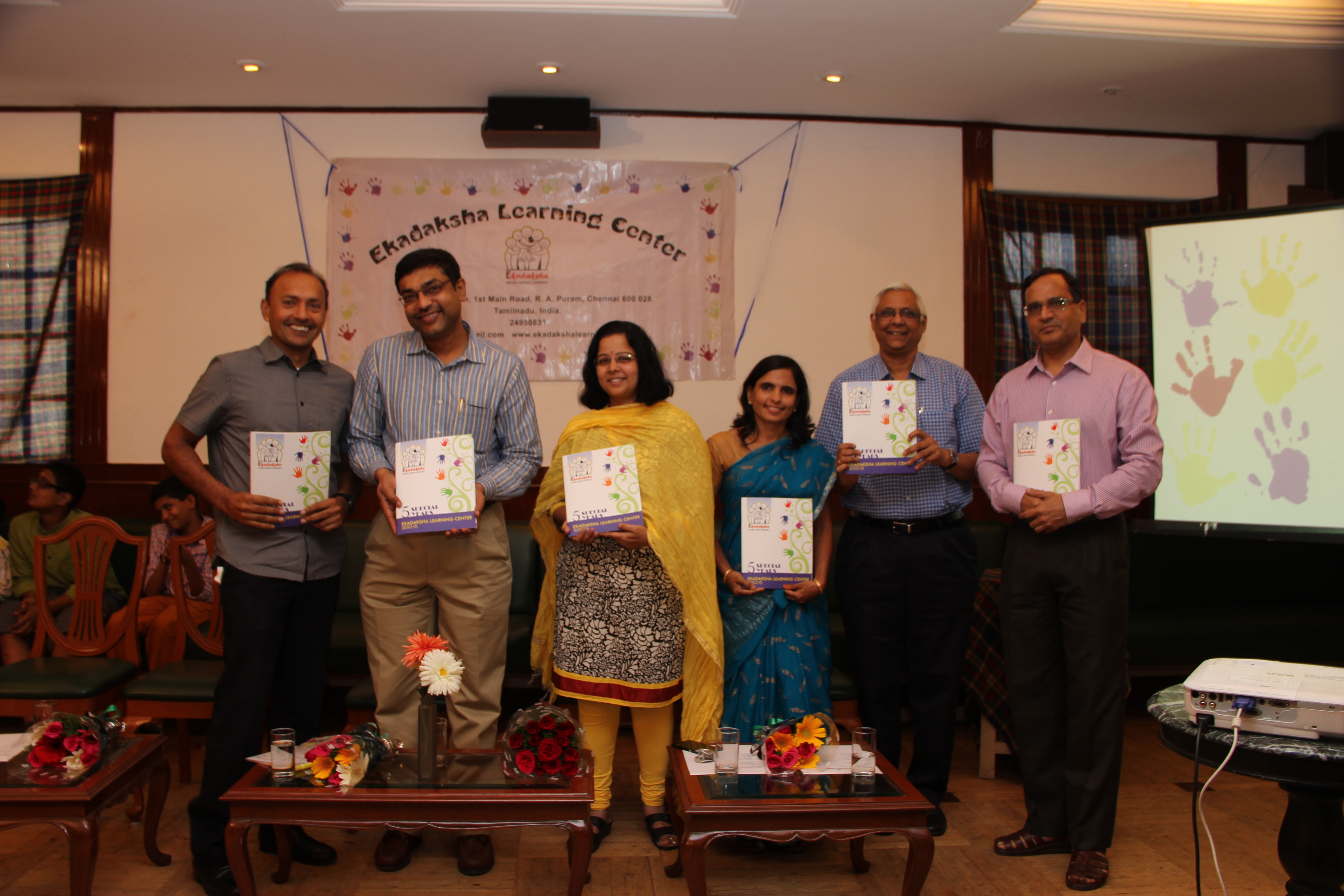 Ekadaksha celebrates five years of service to children with special needs
Ekadaksha Learning Centre, the school that educates and equips children with special needs to be independent, celebrated its fifth anniversary on Sunday 1 March, 2015.
Mr. S. Krishnan I.A.S. the Principal Secretary (Planning and Development) to the Govt of Tamil Nadu and on special duty to the 14th Finance Commission was the Chief Guest during the Anniversary celebrations.  Mr. Krishnan released a souvenir to mark the occasion. During his speech, Mr. Krishnan mentioned how the government has come to recognize the needs of special children, especially when it comes to writing their exams. He informed that the Tamil Nadu government, with the help of a few NGOs is trying out models where children with special needs and senior citizens in community centres are brought together, as a family. He also informed the gathering about the special health insurance scheme for those with special needs, that can be opted for in addition to any other scheme that they may be subscribing to.
There were speeches by Guests of Honours on concerns related to children with special needs. Mr. Vivek Reddy, tennis champion and founder CEO of Kothari Pioneer Mutual Fund (India's first private mutual fund company) spoke about inclusivity in schools and society. He said he had been blessed by God with aspecial child, which he would not trade for anything in this world. Because they exhibit innocence, simplicity and contentment – all the traits of a saint in short. Mr. Vivek Reddy added, "We should not worry about what the society would think of our special child. What is important is how we treat our kids. Because society's view of special children would be shaped by how we take care of them." He opined that if the lack of a life partner did not create a void in the minds of those with special needs, the family should not worry.
Dr. Shanthi Krishnamoorthy, Chief Operating Officer of TnQ Books and Journals Pvt Ltd talked about the career opportunities of children with special needs. She had brought her daughter with Asperger's Syndrome, who has completed her post-graduation, to let others know that education and career were possible for special children. She stressed the need to have flexible work hours, for which the management of corporate need to be sensitized about new HR models. For those who are non-verbal, she suggested that factory assembly work, data entry, re-shelving of books in libraries and the like would be more suitable. Jobs that required immense short-term memory and spontaneous decision making would be hard on them, she added.
Ms. Mangala Bhavani, a nutrition consultant, specializing in dietery aspects of special children and sports personnel spoke about the nutritional needs of special childrenShe reiterated that the children should not be forced to finish their meal, the children are not articulate and as there might be a reason such as lack of physical activity or indigestion. As they may be fussy eaters, it would be better if one tried to understand why the child liked or disliked a particular dish and what tools he preferred to eat with. Also, distraction techniques such as games and TV are a strict no-no for a child to complete the meal. . She said that special children's activities should be planned and appropriate meals should be given. A three-structured meal would be better with two small snacks in between.
During the fifth anniversary celebrations of Ekadaksha on 1 March, 2015, there was also a display and sale of products and artwork made by the students of Ekadaksha Learning Centre.
Ekadaksha Learning Centre was started on 4 March, 2010 by an all-women team comprising of Bharathi Balarajan, Archana Joshi, Bindu Haridas and M. S. Kanaka. Working with the motto of 'Explore, Express, Experience', they help special children to become independent and responsible adults. The team presented their journey of starting with two children and growing to add sessions for children with varied needs and their special summer camps, besides a host of other activities.
Ekadaksha can be contacted at ekadaksha@gmail.com and 044 2495 0831.
Captions:
Souvenir Release – The guests Mr. Vivek Reddy, Mr. Krishnan IAS, Dr. Shanthi Krishnamoorthy, Ms. Mangala Bhavani, Mr. Vijay Kumar of Netherlands Business Support Office and former Chief Secretary Mr. Debendranath Sarangi IAS during the release of Souvenir, marking the fifth anniversary of Ekadaksha Learning Centre
Display – Ekadaksha – Display and sale of products and artwork made by the students of Ekadaksha Learning Centre