Prabhat Education Foundation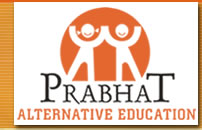 serves children with special needs and other persons with disabilities (PWDs). Although we now refer to them as 'differently able', such persons are subject to multiple deprivations. These include limited access to basic services, such as education, employment, rehabilitation facilities. Widespread social stigma plays a major role in hindering their normal social and economic life in our society.
Prabhat Alternative Education Realizing the need for serving this group, particularly children, Prabhat conceptualized an institutional facility to provide systematic learning, treatment and rehabilitation services
PROGRAMMES AND SERVICES
Therapy and counselling
Prabhat provides therapy facilities under expert guidance to serve children with multiple challenges that include cerebral palsy, mental retardation, speech and hearing impairment, and low vision. To optimise therapy and counselling facilities, Prabhat establishes links with external specialists, provides transport assistance and guidance on Government schemes and other support opportunities.
Educational facilities
Prabhat provides classroom experiences tailored to individual needs, through a process of assessment and
counseling that begins at admission. Every child is helped with a congenial environment depending upon her situation, and is encouraged to join others in developing physical, social and vocational abilities.
Providing teaching aids
Prabhat provides teaching and therapy aids to help serve children affected by physical and mental challenges. These aids help such children build their sense of touch, sound, colour and to recognize everyday objects.
Community-based Rehabilitation (CBR)
An important part of Prabhat's work comprises of sensitizing families and neighborhoods towards acceptance, inclusion and support for special children and others with disability. Prabhat's teams pay regular visits to homes and neighborhoods to help build and facilitate a supportive environment for the child and her family. The CBR Programme also reaches out to those who cannot access Prabhat Centres because of problems of mobility or distance.
Advocacy through networking
This initiative is to help support and promote special education through and among other professional and service organizations. As part of these advocacy efforts, Prabhat conducts regular awareness and sensitization workshops with anganwadi staff, students and staff from mainstream schools and colleges.
Prabhat works with mainstream
schools to help early identification of special needs, with the involvement of specialists. If any disability is detected, appropriate support is extended under Prabhat's Early Intervention (EI) programme. Awareness activities also include workshops, street plays and baithaks.
– Mr. Keshav Chatterjee, Director, Prabhat
Let me know for further details
Mr. Keshav Chatterjee
Prabhat Education Foundation
Director
A-4 Sujal Apartment, Opp Satellite Bungalows Ramdevnagar, Satellite Road
,
Ahmedabad

,

Gujarat
–
380015
|
India
Email : prabhat@prabhatedu.org
Phone : +91-79-2692-2662
Mobile : +91-9825009427
Website : http://prabhatedu.org
Mailing Address
Prabhat Education Foundation B-1002 Rushin Tower Opp. Star Bazaar, Satellite Road
,
Ahmedabad
,
Gujarat
–
380015
|
India