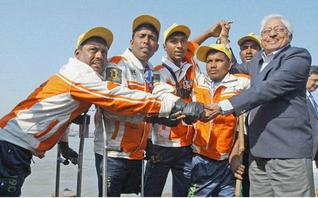 'Beyond Belief' – aimed at dispelling misgivings about the differently abled – strived to highlight they are more determined and resolute than the others as the hundreds kilometre-long river voyage along the Bhagirathi went on, Dasgupta said on behalf of Sukriti.
"This is the seventh edition of the 'Beyond Belief', he said.
Three speech-and-hearing impaired brothers, were part of the 'Beyond Belief' river expedition rowing all the way from Murshidabad to Kolkata in the Bhagirathi river, in the first such initiative in the world.
"The trio — Pinku, Subhankar and Dipankar Goldar — together have fetched several medals in over 450 international-national events… They have been regulars since 2008," Abhijit Dasgupta of Sukriti Foundation, the brain behind the expedition which is in its seventh edition, said after the 12 rowers were welcomed at the Man-o-War jetty here.
Asked what was his most cherished moment during such expeditions, Pinku said, "When we reach the camp at the end of the day."
" No negative thoughts can bog them down," Dasgupta added saying that the three brothers also participated in events organised by clubs in Kolkata.
"One of them was given marching orders by a referee once for not responding to him in a Kolkata league lower division match. Later on, when the referee realised that he was differently abled, he wished he could have taken back his orders." Dasgupta recalled.
ref: http://www.thehindu.com