Cerebral Palsy Wheelchairs
Child with cerebral palsy must learn to manage the wheelchair skillfully, safely, and efficiently, learn to measure space and judge speed and distance with the wheelchair. The cerebral palsy wheelchair is an aid to recreation and socialization.
Aluminum chair frame
Reclining high back
Adjustable headrest
Detachable armrest
Elevating footrest
Solid castor
Pu mag wheel
Adjustable seat angle, safety belt
The wheelchair provides a comfortable and efficient mode of ambulation for child with cerebral palsy or persons whose physical dysfunction. The cerebral palsy wheelchair is essential to making activities.
Contact Details:
Lifelinx Surgimed Pvt. Ltd.
No. 258, Kilpauk Regency, Kilpauk Garden Road, Kilpauk
Chennai
,
Tamil Nadu
–
600010
|
India
Phone:
08373903253, +(91)-9962030750, +(91)-9962288900, +(91)-(44)-42857947
Website:
http://www.lifelinx.in
---
Cerebral Palsy Wheelchairs in India
---
Cerebral Palsy Wheelchairs
The model designed for cerebral palsy child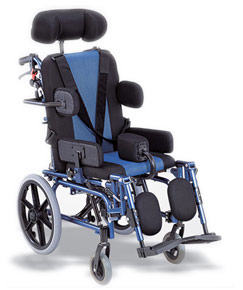 Ultra light weight aluminum alloy frame
Epoxy powder coated frame
Detachable arm rest & foot rest provided
Elevated and swinging foot rest
Elevated foot rest provided to elevate leg angle
Height adjustable and detachable head rest
Hydraulic reclining high back for quite comfortable posture
Hydraulic adjustable seat angle
Detachable back and seat pad
Anti wheels for better safety and stability
Extra cushion upholstery provided to under arm, head & leg
Folding action
Lever and paddle brakes provided
Safety belt provided
Maintenance free rear solid wheels
Contact Details:
SILVERLINE MEDITECH PVT. LTD
103 ff, Spectrum commercial centre, Salapose road, Nr. G.P.O
Ahmedabad
,
Gujarat
–
380 001
|
India
Phone:
+91 – 79 – 2551 0001
Mobile:
+91 – 98258 46628 / 98250 47628
Fax:
+91 – 79 – 2550 3056
Tollfree:
+1800 233 7942
Email:
mithil_silverline@hotmail.com, info@silverlinemeditech.com
Website:
www.silverlinemeditech.com
---
---
More Wheelchair Website Links