The Mahindra Group Wednesday launched India's biggest innovation prize- the 'Rise Prize' which offersUSD1 million to drive globally relevant, disruptive innovations while helping build a culture of innovation in India. It will start with two primary challenges, the Mobility Challenge, which invites solutions for driverless cars in India, while the second Solar Challenge aims to make solar energy products more accessible to the population at large.

The Rise Prize is India's biggest innovation challenge and is awarded to teams that come up with disruptive innovations or solutions that solve pressing problems or create new opportunities. The Rise Prize will pose "challenges", which, if solved, could potentially change the way we live, work and play. Our aim is to present challenges that range across the spectrum: from transportation and renewable energy to technology, healthcare, and beyond. The team(s) that solves these challenges and meets the set criteria will receive the "Rise Prize". The Rise Prize has a sum 1 million USD on offer.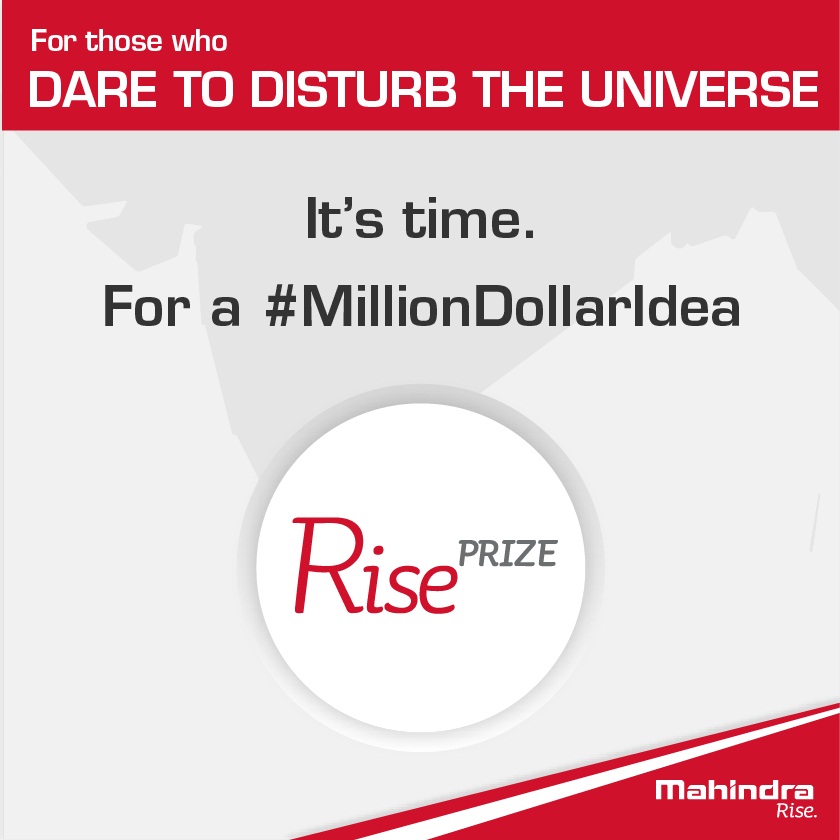 Nations develop when technology and innovation combine to add value, create jobs and improve standards of living. Today, despite a population of over a billion people and a very favourable demographic profile, India lags the world in technology and innovation. Mahindra is confident that if an appropriate ecosystem is developed, India should be able to leap ahead and quickly achieve global standards in developing innovative solutions that solve problems, create opportunities and drive growth. It is this belief that has driven the setting up of Spark the Rise and now, the Rise Prize. The Rise Prize is a logical extension of the Mahindra brand philosophy/purpose of "challenging conventional thinking to drive positive change for all stakeholders". Through the Rise Prize, Mahindra hopes to catalyze disruptive innovations from India.
Participation is open to all Indian citizens, Indian institutions and organizations with the condition that the work done in solving the challenges is carried out within the geography of India. People can participate in teams or as individuals. More details on eligibility can be found on the website, www.sparktherise.com
According to Anand Mahindra, Chairman, Mahindra Group, "With the Rise Prize, the Mahindra Group wants to provoke big disruptive ideas that can dramatically change lives. We are offering a big incentive for fresh thinking among the new generation of innovators in our country. Our ambition is to propel India into the next orbit of Innovation and develop the nascent innovation ecosystem in India. Essentially we want to catalyze the rise of world-class, world-beating innovations and technology from India."
According to S P Shukla, President- Group Strategy and Chief Brand Officer, Mahindra Group, "We are launching the Rise Prize on National Science Day to commemorate the country's achievements in the field of science and technology. We are a nation of a billion possibilities, with the potential to create innovations which are truly disruptive. Rise Prize, from Mahindra Group aims to inspire and enable the individuals & teams out of India to innovate and push boundaries, which would make the world sit up and take notice."
With the Mobility Challenge the Mahindra Group is encouraging innovation in the area of Driverless Cars for Indian Roads. This would redefine the Future of Mobility and carries the promise of transforming our lives while addressing a range of challenges. The benefits of an effective solution include decreased road mortality rates, lower driver fatigue, increased environmental friendliness and making transportation more inclusive for people that are differently-abled. (EOIC))
ref:http://echoofindia.com