WORKSHOP on – Early Identification of Children with disabilities – The Role of Pediatricians and Medical Practitioners
Date: 3rd December, 2016.
Venue : Hotel Pai Viceroy , 1504, 16th Cross, 9th Main, 3rd Block, near Ramakrishna Super Speciality Hospital, Jayanagar, Bangalore- 560 011. Karnataka., India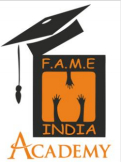 FAME INDIA, a Not for Profit Organization which works for training and empowerment of Children and young adults with Neuro developmental disabilities in Bangalore and Kanakapura villages proposes to conduct a half day workshop on "Early Identification of Children with disabilities-The Role of Pediatricians and Medical Practitioners"
Goal: The goal of this workshop is to provide a conceptually sound framework of knowledge, skills and attitude for Early Identification and Referrals for Early Intervention.
Training Group:
Practicing Pediatricians.
Medical Professionals.
PHC Doctors.
Reproductive Health care Doctors.
Post Graduate Medical Students
Final year MBBS students
Training Objectives :
On conclusion of the workshop, the Participants will be able to
Use developmental screening tool.
Identify early signs of high risk and at risk babies
Refer the high risk babies for early intervention services.
Resource Persons :
Dr.M S Mahadeviah,

Hon. Medical Director-SSK, Pediatric Developmental Neurologist

,

Bangalore

Dr Chitra Sankar,

MBBS, DCH, MRCP(Paed), PGD DN Consultant, Developmental Pediatrics,Manipal Hospital and Cloudnine Clinic.

,

Bangalore
For details kindly call 9886898213 or 080 22446622 Email to tvsankar@fameindia.org or vanidraipet@fameindia.org
Application Download: Early Identification of Children with disabilities Workshop Registration Form (DOC, 29KB)
Brochure Download : Early Identification of Children with disabilities Workshop Brochure (PDF, 54KB)
Contact Details
F.A.M.E India
F.A.M.E India is a Foundation working for the last 15 years in training and enabling persons with special needs to live a life of dignity and self reliance.
Address
FAME Academy, 156, 2nd Main, 36th Cross, Jayanagar 4th Block,
Bangalore
,
Karnataka
–
560082
,
India
Phone : 098868 98213
Email : tvsankar@fameindia.org