EmployABILITY 2016 – Job Fair for qualified persons with disabilities is to be held in Chennai on 17 & 18 December 2016. This is the 9th national level job fair organized by Ability Foundation.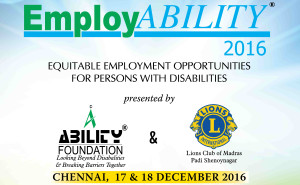 Ability Foundation state with pride the last editions of EmployABILITY that were held in 2004, 2005, 2006, 2008, 2009, 2010, 2012 and 2014 were stupendous success. Candidates came from virtually every state across the country. Employers represented all sectors of industry and recruited for positions across the country.
As far as candidates are concerned anyone who holds a minimum qualification of a Bachelor's Degree is eligible to register. Prior registration is compulsory. Registration should be done online at www.jobs.abilityfoundation.org
Please note that the last date for registration is Friday 25 November 2016.