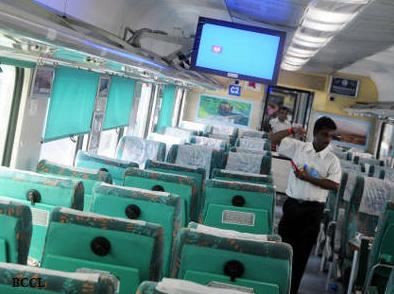 The Purushottam Express is slated to become the first train in the country to have a Braille-embedded AC coach for the visually-challenged passengers. In a first of its kind, the Railways have manufactured an AC three-tier coach with Braille signages to be operational by the end of this month in the Delhi-Puri superfast Purshottam Express as part of its social commitment to make trains and stations more friendly towards differently-abled passengers. At present, the coaches are provided with signages, instructions, seat numbers, which are mostly in the form of vinyl stickers or metallic plates and have no Braille characters and cannot be read by visually-impaired passengers.
The first coach with Braille signages, manufactured at the Integrated Coach Factory in Chennai, is ready and stationed here to be rolled out with the Purshottam Express, said a senior Railway Ministry official.
The AC coach is equipped with Braille-embedded signages on berths, toilets, wash basins and doors as well.
The Railways plan to equip more AC and non-AC coaches with Braille-embedded signages.
It costs about Rs. 40,000 to make a coach visually-impaired friendly as Braille printing are superimposed on the stickers which can be used by both a person with normal vision as well as a visually impaired person.
With embedded pictures or characters, there would not be any defacing even on repeated contacts or rubbing.
It was announced in the Rail Budget of 2013-14 that Braille stickers will be introduced for visually-impaired passengers.
ref : http://www.thehindu.com/todays-paper/tp-national/tp-newdelhi/purushottam-express-gets-first-brailleembedded-coach/article5700909.ece