THE FIRST-EVER T-20 CRICKET WORLD CUP FOR THE BLIND
FROM 1ST TO 13TH DECEMBER 2012 @ BANGALORE- INDIA
Samarthanam CABI is glad to announce the first ever T-20 Cricket world Cup for the Blind in Bangalore on December, 2012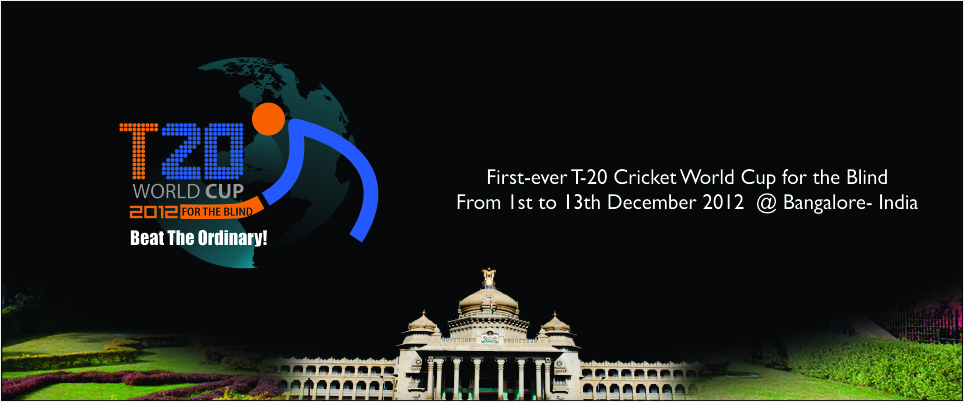 Blind Cricket Council (WBCC) conferred the hosting rights of the world cup to India during the Annual General Meeting held in Dubai on May 2011. All major test-playing Countries including Nepal are taking part .The event will greatly booster the image of blind cricket and cricketers across the world. Blind cricket is purely a rehabilitation drive of Smarthanam CABI for the millions of visually impaired across the country.
The World Cup Logo was unveiled by the legendary cricketer B.S.Chandrashekhar on 25th Aug, 2012. Star Cricketer Saurav Ganguly, who is the brand ambassador of T-20 World Cup for the Blind unveiled the Mascot along with Industrialist Mr. Ashok Khenny (MD,NICE) on 2nd September 2012.
The game is surviving with very active support and encouragement from generous MNCs/corporate houses/PSUs such who have been chipping in to host successful events, along with occasional funding from state and central government agencies. Otherwise, there is no regular flow of funds over the last twenty odd years.
Confirmed participants of this T-20 World Cup for the Blind are Australia, Bangladesh, England, India, New Zealand, Pakistan, South Africa, Sri Lanka and West Indies and new entrant Nepal.
The tournament will be played on league cum knockout basis.
23 Matches will be played in total
The World Cup will start with a grand opening ceremony at KSCA stadium on 1st December 2012, with a ceremonial march past by all participating teams, followed by cultural extravaganza and celebrity appearances.
More Details