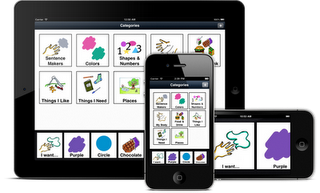 Why Use Grace App?
Support Independence: Grace App was developed to be a communication system that the user controls independently, to discriminate their needs.

Support Consistency in Communication: Grace App is portable, discreet, personal, always available and easy to use and maintain. Choose, take, add photographs and replicate across as many Apple devices that you like.
Build Social Interaction: With Grace App the user must present the visual sentence and interact with a listener who models, prompts & rewards the user's attempted pronunciation of each word

Manufactured by:
Steven Troughton-Smith
Winner of the 2010 Irish Web Awards and United Nations World Summit Award Mobile.
Grace App is a non-speaking, simple picture exchange system developed for people with Autism to communicate their needs independently. Users can select pictures to form a semantic sentence which they can then share, by tilting the device to create a full-screen view, and pointing at each card to hear the listener read each word.
With practice, the user learns to attempt their own vocalizations with the pictures serving as a back-up or prompt. The goal of the Grace App is to encourage independent social interaction with the user taking control of what they want to say.
Manufactured by:
Steven Troughton-Smith

Video:
Grace – App for Autism






A comprehensive guide to Grace App is now available for download. It is highly suggested that you read this manual and learn to use the app yourself before giving it to your child, this will really help the learning curve.
Grace App is now available in 7 languages: French, German, Spanish, Danish, Arabic Brazilian Portuguese and English.