GST Bill 2017 – Persons with Disabilities –  Summary Report. (Last update on 10th July, 2017)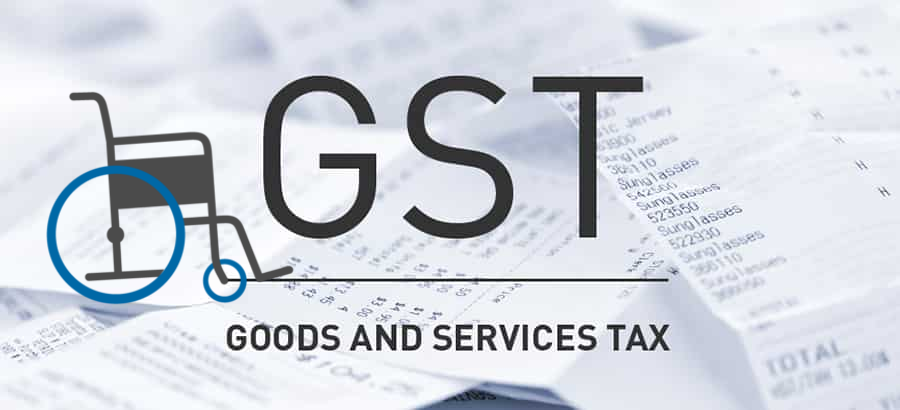 GST 2017 – NIL Tax
Chapter 49:1 – Braille books [4901].
Niramaya Health Insurance Scheme [ref: Notification9-IGST] –  [28th June 2017]
GST 2017 – 5% Tax
Chapter 48:8 – Braille paper [4823 90 11]
Chapter 84:32 – Braille typewriters, electric or non- electric [8472]
Chapter 90:1 – Hearing aids [9021].
Chapter 91:1 – Braille watches [9101, 9102]
Chapter 87:1 – Carriages for disabled persons, whether or not motorised or otherwise mechanically propelled.
Chapter 90:4 – Parts of the following goods, namely:- (i) Crutches; (ii) Wheel chairs; (iii) Walking frames; (iv) Tricycles; (v)Braillers; and (vi) Artificial limbs
Chapter 90:5 – Assistive devices, rehabilitation aids and other goods for disabled, specified in List 32 appended to notification No.12/2012- Customs, dated the 17th March, 2012 .
GST 2017 – 12% Tax
Chapter 90:9 – Orthopaedic appliances, including crutches, surgical belts and trusses; splints and other fracture appliances; artificial parts of the body; hearing aids and other appliances which are worn or carried, or implanted in the body, to compensate for a defect or disability [9021].
GST 2017 – 18% Tax
Chapter 87:1 – Cars for physically handicapped persons [8703]
GST 2017 28% Tax
Nil
List 32 (See S. No. 488 of the Table) – 5% GST Tax
(A)
(1) Braille writers and braille writing instruments
(2) Hand writing equipment Braille Frames, Slates, Writing Guides, Script Writing Guides, Styli, Braille Erasers
(3) Canes, Electronic aids like the Sonic Guide
(4) Optical, Environmental Sensors
(5) Arithmetic aids like the Taylor Frame (arithmetic and algebra types), Cubarythm, Speaking or Braille calculator
(6) Geometrical aids like combined Graph and Mathematical Demonstration Board, Braille Protractors, Scales, Compasses and Spar Wheels
(7) Electronic measuring equipment, such as calipers, micrometers, comparators, gauges, gauge blocks Levels, Rules, Rulers and Yardsticks
(8) Drafting, Drawing aids, tactile displays
(9) Specially adapted clocks and watches
(B)
(1) Orthopaedic appliances falling under heading No.90.21 of the First Schedule
(2) Wheel chairs falling under heading No. 87.13 of the First Schedule
(C)Artificial electronic larynx and spares thereof
(D) Artificial electronic ear (Cochlear implant)
(E)
(1) Talking books (in the form of cassettes, discs or other sound reproductions) and largeprint books, braille embossers, talking calculators, talking thermometers
(2) Equipment for the mechanical or the computerized production of braille and recorded material such as braille computer terminals and displays, electronic braille, transfer and pressing machines and stereo typing machines
(3) Braille paper for the production of braille books
(4) All tangible appliances including articles, instruments, apparatus, specially designed for use by the blind
(5) Aids for improving mobility of the blind such as electronic orientation and obstacle detection appliance and white canes
(6) Technical aids for education, rehabilitation, vocational training and employment of t he blind such as braille typewriters, braille watches, teaching and learning aids, games and other instruments and vocational aids specifically adapted for use of the blind
(7) Assistive listening devices, audiometers (8) External catheters, special jelly cushions to prevent bed sores, stair lift, urine collection bags
(9) Instruments and implants for severely physically handicapped patients and joints replacement and spinal instruments and implants including bone cement
Resources
Council Meet 18 May – bit.ly/gst-council-0518
Council Meet 11 June – bit.ly/gst-council-0611
Notification 28 June – bit.ly/gst-g-rate-0628
Google Drive Dump – bit.ly/gst04pwd
Table Accessible ver – bit.ly/gst-lies-table
Earlier Taxes 2016-17 – CXT – bit.ly/gst-rates-cxt-1617
HS Code 9021 – bit.ly/gst-9021
List 32 – bit.ly/gst-32
FULL 18 May GST rate – bit.ly/gst-rates-18May
Downloads