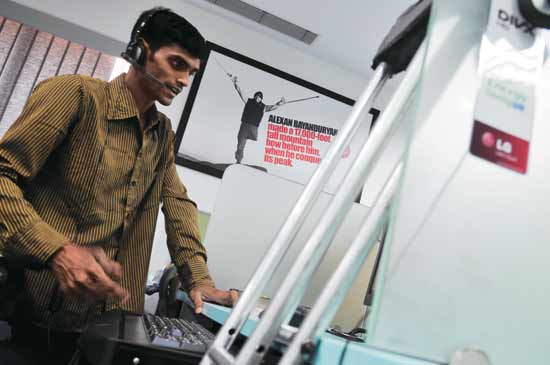 INDIAN companies have responded well to the International Labour Organistion's ( ILO) call to incorporate disability into their business strategies.
In the newly formed ILO Global and Business Disability Network, which has just held three inaugural meetings so far, out of a total of 35 member companies, five are based in India, 17 in Europe and 10 in the US, while the rest are from the Asia- Pacific region.
The India- based member- companies are TCS, Wipro, Infosys, MphasiS and Thomson Reuters. What's more? of the 13 employers' organisations to join the network, two are from India,they are Nasscom and the PHD Chamber of Commerce and Industry.
Debra Perry, senior specialist in vocational rehabilitation, ILO, was quick to point out the business advantages that companies reported soon after the inclusion and empowerment of disabled persons at the workplace. She quotes Fortune to say that after US SME company Carolina Fine Snack started hiring disabled persons, employee turnover dropped from 80 per cent every six months to five per cent and productivity rose from 70 per cent to 95 per cent and absenteeism dropped from 20 per cent to less than five per cent. " Tardiness was reported to have dropped from 30 per cent to zero," Perry says to buttress her argument.
Giving a call to companies to join the ILO's disability network, Perry on a visit to Delhi last week said, " You will be in ' good company'; there will be business- tobusiness ( B2B) knowledge sharing; you get access to ILO's institutional knowledge; you get to stay up- to- date on current international standards and changing national frameworks; you increase access to untapped talent and you get the opportunity to help craft the network which has just begun." Perry is armed with more examples of why it makes good business sense to hire persons with disabilities. It attracts a big market ? at least 92 per cent of consumers view firms that hire people with disabilities favourably; 57 per cent of customers would switch brands for a cause and 87 per cent of consumers prefer to give business to firms that hire persons with disabilities.
"With over a billion people, or about 15 per cent of the world's population, living with some form of disability, this group accounts for the world's largest minority," says Perry, adding that 785 million persons with disabilities globally are of approximate working age.
Besides hiring, changing office architecture and selling to them, there are firms which train them and enable their integration into the workforce. Marks and Spencers' has a programme in Bangladesh, while MphasiS coordinates to fund the Office of Disability Services ( ODS) at the IIM- Bangalore. ODS supports students with disabilities and provides accommodation.
Meanwhile, PHD Chamber of Commerce is organising a job festival for people with disabilities at Chinmaya Mission in Delhi on July 20(which became a huge hit, as seen in the previous post). As expected, many companies in the information technology ( IT) and information technology- enabled services ( ITeS) have already agreed to participate.