Composite Regional Centre for Persons with Disabilities (CRC) – Gorakhpur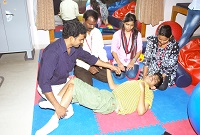 National Institute for Empowerment of Persons with Multiple Disabilities (NIEPMD) is an autonomous institution under Department of Disability Affairs, Ministry of Social Justice & Empowerment, Govt. of India is establishing a Composite Rehabilitation Centre (CRC) in the northern part of country located at eastern part of Uttar Pradesh in Gorakhpur.
The centre will provide rehabilitation services to persons with disabilities in the surrounding districts and states. For smooth functioning of the Centre, applications are invited from dedicated, committed and qualified professionals in following disciplines from the Indian Nationals viz. 1.Physiotherapist 2.Occupational Therapist 3.Clinical Psychologist 4. Speech Therapist 5.Prosthetics &Orthoics Technician 6.Special Educator 7.Office Assistant 8.Accountant cum Clerk and 9. Peon. The honorarium will be given per session wise rates as approved by the 11th Executive Council of NIEPMD. The appointment will be purely on ad-hoc basis. Applications should be submitted on or before 17th March 2014. For other terms & Conditions and application format please log on to
www.niepmd.tn.nic.in.
Download Applications : Click here