Job Fair for the Differently Abled
Date: 26th Feb 2017
Venue : Loyola College , Sterling Road, Near Nungambakkam Railway Station, Nungambakkam, Chennai- 600034, Tamil Nadu. | India.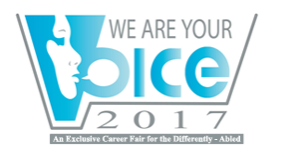 A Career Fair exclusively for the Differently-abled. This year's mega job fair is proposed on 26th February, Sunday, 2017 at Loyola College, Chennai amid four categories of Differently-abled (Hearing Impaired, Speech Impaired, Visually Impaired and Orthopedically Impaired) job seekers (Freshers / Experienced), eminent and open-minded job providers and many versatile dignitaries.
Job Fair exclusively for Persons with Disabilities organized by The Headway Foundation, Opportunity Infotech and Ooruni Foundation which aims at "Connecting Socially Responsible HR Professionals and Employers with Differently-Abled Budding Professionals"
Registration
Job Seekers Registration
Employer Registration
Volunteer Registration
Contact Details