Logo Design Contest for Indian Sign Language Research and Training Center (ISLRTC)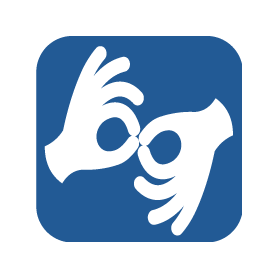 (ISLRTC) Terms and Conditions
The competition is open to citizens of India only.
Participants must have accurate and updated MyGov Profile.
The logo must be original and should not violate any provision of the Indian Copyright Act, 1957.
The logo must not contain any provocative, objectionable or inappropriate content.
All entries must be submitted to the creative corner section of www.mygov.in. Entries submitted through any other medium/ mode would not be considered for evaluation.
The winning design of the logo would be the intellectual property of the Indian Sign Language Research and Training Center (ISLRTC), Department of Empowerment of Persons with Disabilities, Government of India and the winner cannot exercise any right over it, after acceptance of the prize. The prize winning logo is meant to be used by Government of India for official, promotional and display purposes.
Anyone found infringing on others' copyright would be disqualified from the competition. Department of Empowerment of Persons with Disabilities, (Government of India ) does not bear any responsibility for copyright violations or infringements of
intellectual property carried out by the participants
The logo must be in English or Hindi language.
Plagiarism of any nature would not be allowed.
The last date for submission is 22nd February, 2017 at 1700 Hrs.
The winning entry will be awarded a cash prize of Rs. 10,000/- only.
Logo Design Contest for Indian Sign Language Research and Training Center (ISLRTC) Technical Parameters
Design Logo
The participant should upload the logo as a file in JPG, PNG or CDR/AI format in high resolution.
The winner of the competition will be required to submit the design in an editable and open digital file format.
Do not imprint or watermark your logo design.
Logo should be designed in color.
For actual utilization of the award-winning logo, the size may vary from 4 cms x 4 cms to 60 cms x 60 cms. Please keep this aspect in mind while designing the Logo.
The Logo should be usable on the website/social media such as Twitter/Facebook, on printed materials such as b/w press releases, stationery and signages, video material, etc.
The Logo should be in high resolution with minimum 300 DPI.
Click here for the contest details
Click here for terms and conditions
ISLRTC NEWS :- LOGO DESIGN CONTEST FOR ISLRTC 2017