An annual special camp conducted by the Sarva Shiksha Abhiyan (SSA) for differently-abled students in the city corporation limit turned out to be a platform to find out the severity of their disability on Monday.
The medical camp held at the Syed Murtoza Government Higher Secondary Sschool at Palakkarai provided disability checks like hearing test, visual test, mental test, audiogram etc. It was the first camp of this year for the differently-abled children in the age group of six to 14 years, studying in government and government-aided schools. The rest of the camps will be held in Manapparai, Mutharasanallur, Somarasampettai, Lalgudi, Kattur, Thottiyam, Musiri, Thuraiyur and Mannachanallur areas for one day from July 22 to August 2.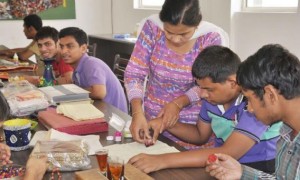 In Monday's medical camp, a total of 334 differently-abled children including 102 hearing impaired, 41 visually challenged, 110 mentally-retarded and 81 physically challenged participated. Going by the previous year camp's record, as many as 2,833 differently-abled students were identified in the camps held across the district in 2013-14. "As many as 165 children identified in the last year's camp underwent surgeries related to their diseases at Trichy, Srirangam and Musiri government hospitals. Besides that, 385 students received equipment and 677 received national identity cards for differently-abled persons. We expect around 2,000 children to participate in this year's camp," said Jayashree Muralidharan, district collector. The medical camp helped identify the severity of the disabilities of the children. A nine-year-old mentally-retarded student was referred for a surgery to avoid further complications through the camp.
When TOI spoke to some of the parents of the differently-abled children, they revealed that many students who have normal disabilities want to pursue higher education in schools.
SSA chief educational officer N Marimuthu said that they provided training to 684 differently-abled residential students through 74 special teachers and five physiotherapists in the district.
Despite their disability, many students want to study in schools. Some teachers of government schools were seen bringing the students to the medical camp in the absence of their parents.
Source : http://timesofindia.indiatimes.com/City/Trichy/Medical-camp-for-special-kids-turns-beneficial/articleshow/38821384.cms