Niall's Cone Trust started in 1998 in Gudalur of the Nilgiris District, Tamilnadu. The organizational area is a hilly region consists 2.35 lacks population
covers 22 % of them tribals, 58 per cent of the population belongs to Sri Lankan Repatriates and remaining others those migrants from Kerala and Karnataka States. Majority of the people of this area weage earner in the tea estates. Due to poverty, illiteracy and ignorance of the people it leads to many number of physically and mentally handicapped persons would inherent in the area. As per the current survey there are around 1500 disabilities inherited. The organization concentrates disadvantaged people especially Mentally Retarded and Physically Handicapped persons. In orders to care them to developing special-education, training and various awareness programs for the Mentally Retarded and Physically Handicapped Children and their parents. The organization facilitates many Government programmes to development of the disable people.
VISION
To educate and train the Mentally Retarded and Physically Handicapped children for their self sufficiency in cooperation with their parnets.
MISSION
To develop special education and training programs in cooperation with the Mentally Retarded and Physically Handicapped children and their parents.
Daily Living Skills

Feeding / Drooling control
Dressing
Bathing and grooming
Toileting
Take care of menstruation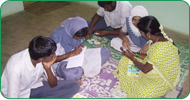 Motor Skills

Positioning
Lifting
Carrying / transferring
Sensory motor stimulation
orientation and mobility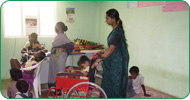 Language and Communication

Basic Language skills
Alternative methods of communication
Specific strategies for improving communication with non-speaking children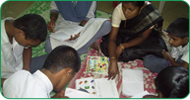 Psycho-Social Management

Bonding
Motivation
Self Esteem
Emotional Intelligence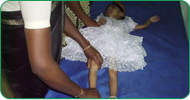 Learning and Understanding

Functional literacy (reading, writing and numeric)
Functional skills such as concept of money, time, calendar,.
Symbolic understanding
Understanding of the environment
Playing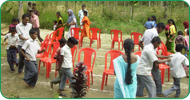 Health Education

Training in sex education
Nutrition
Personal Hygiene and Health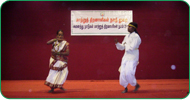 Leisure and recreation skills
Orientation to prevocational, Vocational and Educational possibilities
The following target children has been facilitated to obtained various programme through Government.
We are running the the Home for Mentally Challenged children. Now 23 children staying in the Home.
We are running the Government program for Early Intervention Centre for Mentally Retardation children.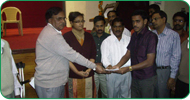 Has been covered 65 school going children with disable facilitated them to educational scholarship from the year 2000 to till date.
Canalized the Government programme of maintenance grant for 120  M R children from the year 2000 to till date
40 children and adults benefit aids and appliances through district rehabilitation office.
15 made corrective surgery (lip corrective, elbow corrective and other )
Has been formed 4 special SHG with disable adults.
Therapy for needy disable people
Raised awareness programme
NIALLS COEN TRUST
D.No. 3/1077A, Puthurvayal Road,
Kammathi, Srimadurai Panchayat,
Gudalur T.K,
The Nilgiris District,
Tamilnadu, India.
Phone: +914262 226256, +91 94435 23814
E-Mail : info@nialls.com