Recording media: 8GB Internal Memory – DAISY online – Web radio streaming – Podcast downloading – palyback – DAISY recording with mic – recording onto media – CD – Internal memory – SD Card – USB – DAISY editable software
PLEXTALK Linio Pocket is the world's first portable DAISY online player and recorder, designed for the visually impaired and dyslexic to stream or download talking newspapers, magazines and books online.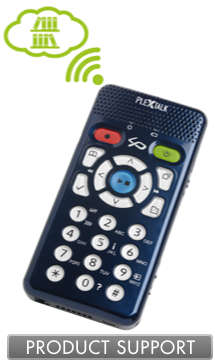 Features List
DAISY Online
Wireless LAN capabilities
DAISY/Text Playback
DAISY recording
Flexible data management
Advanced time management
Intuitive operation
All-in-one
Software
Carry Case
Network package
External CD-ROM Drive (Option)
General Specifications
Item

Specification

Internal Memory
8GB flash memory
(7.2GB user area)
SD Card Slot
SD/SDHC card (up to 32GB)
Playable Contents
Books conforming to DAISY 2.0, 2.02 or 3.0 standards
Reading PDF, EPUB2, Microsoft Word DOC and DOCX, plain text, html, BRL, BRF or DAISY text by text-to-speech
Audio files in MP3, WMA, AMR-WB+, Ogg Vorbis, Wave (PCM) formats, Audible Format 4(.aa) and LKF format.
Music CDs (CD-DA)(External USB CD/DVD drive)
Playable Audio Formats for DAISY Books
MP3, AMR-WB+, DAISY ADPCM2, PCM, Ogg Vorbis.
Recording Methods
DAISY 2.02
Recording Audio Formats for DAISY 2.02
PCM 44.1kHz Stereo
PCM 22.05kHz Mono
MP3 256kbps Stereo
MP3 128kbps Stereo
MP3 64kbps Mono
MP3 32kbps Mono
Recording Audio Formats for Voice Memo
MP3 32kbps Mono
Audio Input and Output
Headphone terminal (Stereo)
External microphone/ Line input terminal (Stereo)
Built in microphone (Monaural)
Built in speaker (Monaural)
Externally Connected Terminal
USB 2.0
USB OTG (USB bus power)
Clock Precision
Approximately 60 seconds per month
Electric Power Source
AC adaptor, AC 100 V to 240 V, 50 or 60 Hz
Dimensions and Weight
Length 112 mm
Width 55 mm
Height 16 mm
Weight Approx. 110g
Power Consumption (maximum)
20W
Working Temperature and Humidity
Celsius from 5 to 40
Humidity from 20% to 80%, no moisture.
Article number
PTP1/LINIO
Colour
Midnight blue
Accessories
AC adaptor
4GB SD card
Carry case
Earphone
USB Cable(MiniAB-A and MiniAB-B)
Lithium ion Battery
Pocket Guide
Contact Details
India
Shinano ABV Technologies Pvt. Ltd.
Plot 131, KIADB Industrial Area, Bommasandra – Jigani Link Road, Jigani
,
Bangalore
Karnataka
–
560105
|
India
Phone :
+91 80 6633 8883
fax :
+91 80 6633 8861
Mobile :
+91 90080 63403, 9841611223
Email :
rajakumar@shinano.in
Europe
Shinano Kenshi Europe
Ikaroslaan 3-1930 Zaventem
,
Belgium
Phone :
+32-2-725-55-22
fax :
+32-2-725-94-95
Japan, Asia Pacific and others
Shinano Kenshi Co., Ltd.
1078, Kami-Maruko, Ueda-shi
,
Nagano-Ken
–
386-0498
|
JAPAN
Phone :
+81-268-41-1814
fax :
+81-268-42-2923
More details : http://www.plextalk.eu/en/top/products/linio-ptx1/