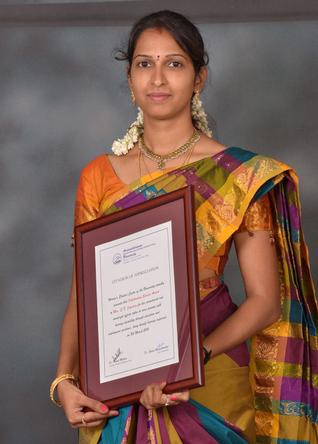 The achievements of S.D. Jayasree, a 29-year-old employee of India Posts' Railway Mail Service, are quite a few.
Since she joined a non-governmental organisation in 2008, Jayasree has been training scores of differently abled persons in multi-media software, and artificial jewellery making and beautician course.
In 2009, she formed Calliper Women, an NGO, by bringing together a group of women with hearing disabilities. The NGO works towards making women with hearing impairment employable. It also offers counselling for differently abled women. She was a full time worker for three years at a computer centre run by UDIS Forum for differently abled persons.
An academically brilliant student, she stood State first in the commerce stream in Class XII public examination. She is also a qualified typist in both English and Tamil and has had a year's training in computer engineering besides beautician course.
An impressive list for any person, but Jayasree's achievements shine all the more brightly for she has managed to achieve all this overcoming her own disability of hearing impairment.
Her contribution to the cause of helping differently abled persons was recognised with a 'Women Achiever' award by the Avinashilingam Women Study Centre on the occasion of International Women's Day (March 8). She received the award from J. Mohanasundari, Managing Director of Sharp Industries, during a function. Sheela Ramachandran, vice-chancellor of Avinashilingam Institute for Home Science and Higher Education for Women, presided over the event.
The society, Ms. Jayasree said, was now waking up to the needs of differently abled persons. Educational institutions, particularly the universities, have a major role to play. She said that sign language must be included in the school curriculum.
Others who received the award were Sherin Philip, District Social Welfare Officer, P. Uma Makeshwari, social worker, K. Aruna, Protection Officer of the Social Welfare Department, and U. Elizabeth, Women Development worker, Good Shepherd Health Education Centre and Dispensary.
ref : http://www.thehindu.com/news/cities/Coimbatore