SmartCane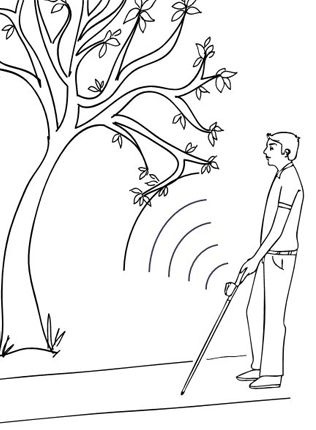 Smartcane device is an electronic travel aid which fits as handle of the white cane. As white cane can only detect obstacles up to knee height, Smartcane compliments its functionality by detecting obstacles from knee to head height. It detects obstacles using sonic waves and the presence of obstacles is conveyed through intuitive vibratory patterns. It is powered using rechargeable Li–ion battery like cell phone and can be used in both indoor and outdoor navigation modes. It has been designed to accommodate varying types of user grips which are commonly used by visually challenged.
Ergonomic grip for comfortable holding and cane tapping: Can be held by different gripping styles, allowing users to use their natural cane holding and mobility techniques.
Adjustable detection range: User can switch between long (3 metre) and short (1.8 metre) range mode depending on the usage scenarios such as outdoor, indoor or crowded places.
High detection sensitivity: The sensors can detect a 3 centimetre wide pipe from 3 metres distance, ensuring reliable detection of objects in the detection range.
Four intuitive and distinctive vibration patterns indicating obstacle distance.
Vibrations are uniformly produced on the entire grip: Non-localized vibration feedback allows user to conveniently grip the device.
Does not interfere with the auditory environment surrounding the user Vibrations allow discreet continuous use without making the user conscious or creating annoyance to others
Adjustable sensor orientation: Allows people of different heights and with different cane holding styles to direct the sensors appropriately.
In-built rechargeable battery with a long battery back-up: Easy charging like a cell phone. Removing of batteries for charging is not required.
Fully accessible user interface: Simple and distinguishable beeps to convey the battery charge status, low battery warning and charging status.
Failure detection of key components: Users informed immediately on failure of sensors and/ or vibrator through special alarm signals.
Detects fast approaching objects in the detection range: Especially helpful in detection of reversing vehicles.
Easy attachment / detachment from a white cane: Allows for compatible white cane replacement by the user himself.
Multiple colour options: Available in two non- flashy and elegant colours
Robust design: Can withstand accidental fall
Splash proof: Prevents damage during light rain Conforms to international quality standards
Manufactured by:
Phoenix Medical Systems
Price : Rs. 3000 New



SmartCane – The Journey




SmartCane Video Tutorial

Contact Address :
Saksham Trust, 486 Double Storey, New Rajinder Nagar,
New Delhi
New Delhi
Postal Code:
110 060
India

For any repairs, the customer is required to ship or physically deposit the device at the point of sale or below address:
Phoenix Medical Systems (P) Ltd, DP42, SIDCO Industrial Estate,
Thirumudivakkam, Chennai – 600 044.

List of centres and their addresses where the SmartCane is available
A.K Trust
Ambawadi, Junagadh Road, Dhoraji
Rajkot
Gujarat
Postal Code:
360410
Contact Person:
Mr. Praful Vyas
aktrust.drj@gmail.com, info@aktrust.org
02824-223502
Sparsh Products
151-5, Rajpur Road
Dehradun
Uttarakhand
Postal Code:
248001
India
Contact Person:
Mr. Abhinav Gupta
sparshproducts@gmail.com, info@sparshproducts.com
0135-2735011
Saksham
84, BSF Colony (near HMV College),
Jallandhar
Punjab
Postal Code:
144008
India
Contact Person:
Ms. Deepika Sood
deepika.sood2006@gmail.com, deepika@saksham.org
8437692797
NAB
130-B, Rashbehari Avenue
Kolkata
West Bengal
Postal Code:
700029
India
Contact Person:
Ms. Kanchan Gaba
deykanchandey@gmail.com
9831042144
Odisha Association of the Blind
Malgodown Road, Unit III, Kharvel Nagar
Khurda Bhubaneswa
Orissa
Postal Code:
751001
India
Contact Person:
Mr. Bihari Nayak
prasantabhuyan68@gmail.com , oabbhubaneswar@yahoo.com
0674-2570442
RSVI
A-303, 2nd Floor, Gopala Apartments, RamTirath Marg, Narahi,
Lucknow
Uttar Pardesh
Postal Code:
226001
India
Contact Person:
Mr. Rakesh Jain
daisyrsvi@gmail.com
0522-3019456, 0522-4070138
Arushi
No. 1, Shivaji Nagar, Near MPEB Office
Bhopal
Madhya Pradesh
Postal Code:
462016
India
Contact Person:
Dr. Rohit Trivedi
arushiorg@gmail.com
0755 4293399, 2550827
Blind People's Association
Jagdish Patel Chowk, Surdas Marg, Vastrapur,
Ahmedabad
Gujarat
Postal Code:
380015
India
Contact Person:
Dr. Bhushan Punani
blinabad1@bsnl.in
079 – 26303346, 26305082.
Voice Vision
103, Synthofine Estate ' A' , Behind Virwani Industrial Estate, Off, Aarey Road,
Goregaon – East
Mumbai
Postal Code:
400063
India
Contact Person:
Ms. Sushmeetha Bubna
sushmeetha@voicevision.in
022 – 4040 0000
XRCVC
St. Xavier's College 5, Mahapalika Marg,
Mumbai
Mahatrashtra
Postal Code:
400001
India
Contact Person:
Dr. Sam Taraporevala
info@xrcvc.org , sam@xrcvc.org
022-22623298, 22626329
NAB India
11/12, Khan Abdul Gaffar Khan Road, Worli Seaface,
Mumbai
Mahatrashtra
Postal Code:
400 030
India
Contact Person:
Dr. Ram Krishna
hsg@nabindia.info
022- 24935365 / 6683 8686
Chakshumathi
TC28.128, KRA 48, Kaithamukku post office lane,
Thiruvananthapuram
Kerala
Postal Code:
400 030
India
Contact Person:
Ms. Sarala Ram Kamal
devoos27@gmail.com, admin@chakshumathi.org
9744034384
NFB, Karnataka
#36, 1st floor, 100 FT Ring road, veerabhadranagar, Banashankari, 3rd Stage,
Bangalore
Karnataka
Postal Code:
560085
India
Contact Person:
Mr. Gautam Prakash Agarwal
nfbkarnataka@gmail.com
080-26728845
Mitra Jyothi
CA Site P – 22, 18th cross, 31st Main, – 1, HSR Layout, Behind NIFT College,
Bangalore
Karnataka
Postal Code:
560102
India
Contact Person:
Ms. Madhu Singhal
madhu.singhal59@gmail.com
080 – 22587623/25
IAB Madhurai
AlagarKoil Main Road, Arumbanur Post,
Madurai
Tamil Nadu
Postal Code:
625104
India
Contact Person:
Ms. Roshan Fathima
roshan@theiab.org, contact@theiab.org
452-3291576
L V Prasad Eye Institute
KallamAnji Reddy Campus ,L V Prasad Marg, Banjara Hills
Hyderabad
Postal Code:
500034
India
Contact Person:
Ms Beula Christy
beula@lvpei.org
040-30612823
source : http://smartcane.saksham.org/