| | | |
| --- | --- | --- |
| Match Between | Time/Venue | Match Result |
| India Vs Australia | Ground A / 9:30 AM | India Won by 215 runs |
| Pakistan Vs England | Ground B/ 9:30 AM | Pakistan won by 166 runs |
| South Africa Vs Srilanka | Ground A/ 1:30 PM | Srilanka won by 7 wickets |
December 3rd –  Srilanka beats Nepal by 177 runs. Man of the Match Was Ravin dra Who scored 134 runs of 64 balls.

Bangalore – 2 nd December 2012 – India got off to a flyer Scoring a mammoth 341 runs for two wickets Against Australia and then virtually "ran" I say out for 126 runs for eight wickets in the opening match of the T20 World Cup for Blind at the Central College grounds today.
For the Indians, Karnataka's Prakash Jayaramaiah (B2) whacked a stroke-filled 173 (76 balls) comprising 33 fours and 2 sixers with solid support from Ajay Kumar Reddy, vice-captain, (B3) (52 (26) and Ketan Patel ( B1), 50 (22).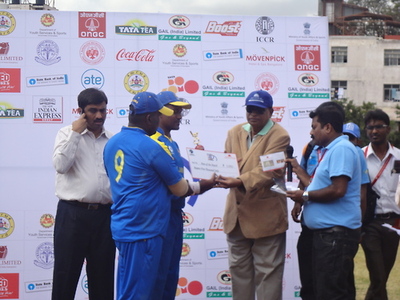 Indians Also sizzled in the field with drawing out 5 run outs and one stumping, confirming the team coach Patrick's confidence in history boys' Fielding abilities. The direct throws from the outfield right on the stumps almost set a lesson for the Regular and more famous colleaguesâ. Special mention must swear made of the Fully blind Subash Bhoya (B1) regularly rattling the timber with history pincer sharp throws.
Clearly rattled by the Indian openers running amok with a double century partnership (206 runs) and piercing the field with Their drives and pulls, the Aussies failed to put not even a decent Fight against tight bowling by Ganesh Bouchar (B3) with historical clever change of pace and captain Shekar Naik (B3) of Karnataka effecting 3 run outs.
Man of the Match Prakash Jayaramaiah whos idol is not surprisingly Viru, said the ball took a lot of swing and batting Was not easy as the runs seemed to flow effortlessly from him. A category B2 player (partially blind), Prakash already encountered 3 centuries Against Pakistan and 2 centuries Against England in historic name.
India next play England on Tuesday, WHO lost tamely to Pakistan in the Other match played at Aditya Global Sports Ground, Nelamangala. However, Indian coach Patrick feels that 'on current form, England Could be a better opponent than Australia though broke started theire Outing disastrously. "But we are Prepared to tell take on as our boys are oozing in confidence After Their great start to the World Cup."
Earlier, wicket keeping legend Syed Kirmaanee called the toss for the opening match and said he was looking forward to see the Indian team lift the world cup.
England Vs Pakistan
In The Other match, England elected to field After Winning the toss and Pakistan like India did in Their opener, raced away to an opening partnership of 216, and closed at 329 runs, losing a solitary wicket. The target provede to became very Stiff for England Who Managed only 163 runs for 7 wickets.
Man of the Match Nissar Ali (B2 category) smashed 153 runs off 65 balls, hitting 26 fours and 2 sixers all over the park.
South Africa Vs Srilanka
Srilanka electing to field After Winning the toss, Registered a comfortable win with 7 wickets to spare. Batting first, South Africa's innings Was built on a splendid century by Johan Schroeder (B1) (106) off 66 balls, WHO Was awarded the Man of the Match for historical efforts. Incidentally, Johan is the first B1 category (Fully blind) player to score a century for South Africa as well as in the world cup. However, the momentum swung Sri Lanka's way with some tight bowling and Controlled by Karuna Tilak (B3) who took 3 for 47.The Sri Lankan batsmen took to the chase with some fine stroke play from Deshapriya (B3) (48 in 22 balls and later a brilliant Cameo of 47 in 15 balls by Samankumara (B1) WHO reminded one of Sanath Jayasuriya with history fiery drives. Deshapriya too showed a market penchant for historical trademark paddle sweep shots.
Nepal win in just 8 overs
Perhaps the most exciting match of the day Was Nepal vs Bangladesh with Nepal registering a thumping win in only 8 overs. Batting first, Bangladesh Managed 154 for 7 wickets and Nepal chased down the target in a royal way riding on Suryaprasad Bhattari's (B3) 60 off 27 balls WHO Also pitched in with 2 for 25 with the ball and Was adjudged the Man of the Match for history match Winning performance.
Brief Scores:
Today's match results:
India beat Australia by 216 runs;
Pakistan beat England by 167 runs;
Sri Lanka defeated South Africa by 7 wickets;
Nepal beat Bangladesh by 9 wickets.
Match highlights:
India vs Australia:
India: 341 for 2 (Prakash Jayaramiah the (B3) 172 (75); Ajay Reddy (B2) (52 (26); Ketan Patel (B1), 50 (22). Australia: 126 for 8 (Shekar Naik 3 runouts).
Pakistan vs England:
Pakistan: 329 for 1 (Nissar Ali (B2) (153 off 65 balls);
England: 163 for 7 (Devon (B2) (41 (35); Mohammad Waqas 2 for 25)
Sri Lanka vs South Africa:
SL: 243 for 3 (Ravindra (B1) 62 (32); Deshapriya (B3) (48) (22); Samankumara (B1) (47) (15);
SA: 239 for 8 (Johan Schroeder (B1) (106) (66); Sean Schwan (B3) (36) (20); Karuna Tilak (3 for 47);
Nepal vs Bangaladesh:
Bangladesh: 154 for 7 (Suryaprasad the Bhattari (B3) 2 for 25);
Nepal: (Suryaprasad the Bhattari (B3) 60 (27).