Tap to Talk Apps – Aimed to non-verbal students
Give a non-verbal child or adult a voice!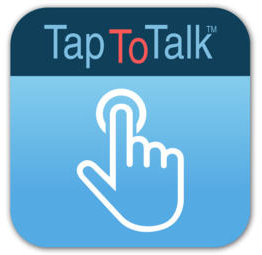 TapToTalk turns an Android Phone or Tablet into an augmentative and alternative communication (AAC) device. TapToTalk makes communication fun, like another "game" on this cool device. Just tap a picture and TapToTalk speaks. Each picture can lead to another screen of pictures.
This free TapToTalk™ app allow users to choose among different sets of AAC albums based on the needs of the non-verbal child or adult. Samples albums are available for children and adults and in different languages; including English, Spanish, French, German and Italian.
Use TapToTalk Designer to customize TapToTalk for your child. It's as easy as 1-2-3-4
1. Choose your pictures
2. Add text and sounds
3. Organize picture albums
4. Play your albums on as many devices as you wish–no extra charge
Play your TapToTalk albums on iPad, iPhone, iPod touch, Kindle Fire, Nook Color, Nook Tablet, Android devices, Nabi Tablet, Windows 8/RT devices, PC or Mac
Customize your albums with TapToTalk Designer on any PC, Mac or iPad
Android, ipad, iphone, kindle, Windows, Mac
Manufactured by:
Assistyx LLC
Video:
Grace – App for Autism

A TapToTalk album contains one or many pages of pictures and sounds. Each album can be for a different environment or situation in which TapToTalk may be used.