Technological advancements we've made in recent years have led to an explosion of devices and gadgets that help people with disabilities lead a fuller life. Here are a few of the top tech gadgets for disabled people that have hit the market in recent years.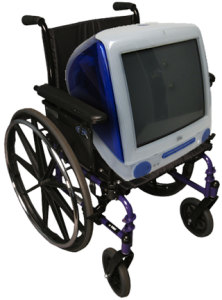 iPad – Believe it or not, the iPad is a great device for people with disabilities. The touch screen is much easier to work with than a mouse, as it requires less coordination and mobility. The also iPad makes it easier to do things such as reading a book, because it eliminates certain motions (such as turning the pages). In addition, there are many apps available on the iPad that can help people manage their medical conditions. Read More : http://atmac.org/
Ebook readers – Dedicated ebook readers have become quite popular with mainstream readers, but for those who can't see very well or at all, they have transformed reading. Not only can you enlarge the text so that it is easier to see and turn the pages with a much easier motion than flipping pages in a physical book, but also many ebook readers will read to you. Read More : http://blog.aliexpress.com
Braille+ Mobile Manager – The computer and the Internet are not off-limits to the blind! The Braille+ Mobile Manager functions much like a PDA, enabling people with visual impairments to check email, take notes, and do a multitude of other tasks that people with good vision take for granted. Read More : http://www.afb.org/
Foot mouse – This is, of course, a mouse controlled with your foot. The gadget is designed for people who cannot use their hands or arms to control a mouse, whether because of carpel tunnel, repetitive strain injury, or a more serious disability.
Eye-controlled computer – Eye-controlled computers such as the MyTobiiP10 are enabling people with severe disabilities to use the computer just like anyone else. The computer tracks the movement of your eyes and interprets what you want it to do. The accuracy is so good that it works even if you wear glasses or move your head around while you use it. Read More : http://electronicsbus.com
Lomak – Similar to the eye-controlled computer, the Lomak system (which stands for light operated mouse and keyboard) allows the user to control their keyboard and "type" using a pointer device that is strapped to their head. This enables you to make selections using the tiniest movements of your head. Read More :http://www.ask.com/wiki/LOMAK?qsrc=3044
Breath-controlled computer – There is no end to the ways that a computer can be controlled these days! If eye-movement control or a light strapped to your head don't work for you, there are also gadgets you can get to allow you to control your computer with your breath. It may sound silly, but in reality it has been shown to be a very precise way of controlling a computer. Read More :  http://dvice.com/archives/2011/02/nose-breath-con.php
Tactile wand electronic walking stick – Rather than using a stick to determine whether an object is in front of them, visually impaired people can now use an electronic handheld device that's not much longer than your hand. The device detects objects in front of the person using it, and vibrates with increasing intensity the closer you get to the object. Read More : http://www.coolest-gadgets.com/20110502/illuminated-walking-stick/
Pedopanic – The name sounds a bit humorous, but if it could save your life, it's nothing to laugh at! This device is essentially a pedometer that also has a panic button. When pressed, the button causes a loud alarm to sound, which helps others find you in case you have an accident or emergency. This is a great device for the elderly or disabled, who are especially vulnerable to accidents and may not be able to call for help.
Combination clothes washer/dryer – Doing laundry is one of the many daily activities that non-disabled people take for granted, but transferring clothes from the washer to the dryer can be difficult for someone with a disability. That's why Panasonic has developed a single, front-loading machine that does both, complete with an angled drum to make it easier to load and unload your clothes. As an added bonus, the washer-dryer is also extremely energy efficient, since it uses a heat pump instead of a heating element to dry the clothes. Read More :http://www.lasvegassun.com/blogs/ces-2009/2009/jan/08/green-washer-dryer/