The Government has also set up 20 vocational Rehabilitation Centres. The main purpose of these centers is to evaluate the capabilities of disabled clients.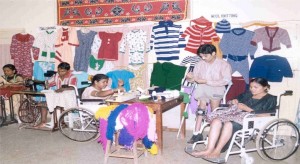 They also sponsor candidates to potential employers.
The main objectives of VRC are:
Vocational evaluation and adjustment of the physically handicapped persons.
Assessment of the medical, psychological, rehabilitation needs.
Assist in developing rehabilitation plans depending upon the specific needs.
Sponsor physically handicapped registrants against notified/identified vacancies.
Act as distribution centers for various schemes like Scholarship/aids and appliances.
Make referrals to financial institution for funding self-employment ventures.
Vocational Rehabilitation Centers (VRCs) In India
VRC for Handicapped,
ATI Campus, Vidya Nagar,
Hyderabad-500007,
Ph: 040-27427381 Fax: 040-27427381,
E-mail: vrchyd@hub.nic.in
VRC for Handicapped,
Old ITI Campus, Rehbari,
Guwahati-781 008.
Ph: 0361-2607858,
E-mail: vrcguwahati@hub.nic.in
VRC for Handicapped,
A/84, Plot No.1, Gandhi Vihar Police colony,
Anisabad, Patna-800002.
Ph: 0612-2250213
E-mail: vrcpatna@hub.nic.in
VRC for Handicapped (women),
After Care Hostel Building,
Pensionpura, Vadodara-390002.
Ph: 0265- 2782857. Fax: 0265-2430510/2430362,
E-mail: vrcvadodara@hub.nic.in
VRC for Handicapped,
ITI Campus, Kuber Nagar,
Ahmedabad-382340.
Ph: 079-22811629. Fax: 22822486
E-mail: vrcahmd@hub.nic.in
VRC for Handicapped,
Mohalla Baga Mataji,
Near Rotary Chowk,
Una-174303.
Ph: 01975-202222
VRC for Handicapped,
Gogji Bagh, Jawahar Nagar,
K.G.Polytechnic Campus, Srinagar-190008.
Ph: 0194-2310658
VRC for Handicapped,
22, Hosur Road, Bangalore-560 029.
Ph: 080-26564995,
E-mail: vrcblore@hub.nic.in
VRC for Handicapped,
Nalanchira, M.C. Road, Nalanchira,
Thiruananthapuram-695 015.
Ph: 0471-2531175, 2530371.
E-mail: vrctvm@hub.nic.in
VRC for Handicapped, Napier Town,
Near Bus Stand Jabalpur-482 001
Ph: 0761-2405581, Fax. 2390169,
E-mail: vrcjabal@hub.nic.in
VRC for Handicapped,
ATI Campus, V. N. Purav Marg,
Sion, Mumbai-400 022.
Ph: 022-24052707, Fax: 25221560
E-mail: vrcmumbai@hub.nic.in
VRC for Handicapped,
Plot No.9, 10, 11, Karkar Dooma,
Vikas Marg, Delhi- 110092.
Ph: 011-22372704
E-mail: vrcdelhi@hub.nic.in
VRC for Handicapped,
SIRD Campus, Unit-8,
Bhubaneswar-751012
Ph: 0674-2560375, Fax: 2560375/2550800,
E-mail: vrcbbnr@hub.nic.in
VRC for Handicapped,
Opp. Boat House, Ariyankuppam,
Puducherry-605007.
Ph: 0413-2602024
VRC for Handicapped,
ATI Campus, Gill Road,
Near Arora Talkies, Ludhiana-141 003.
Ph: 0161-2490883, Fax: 0161-2491871,
E-mail: vrcludhiana@hub.nic.in
VRC for Handicapped, 5-A/23, Jawahar Nagar, Jaipur-302004.
Ph: 0141-2652232, Fax: 2200072,
E-mail: vrcjaipur@hub.nic.in
VRC for Handicapped,
CTI Campus, Guindy, Chennai-600 032.
Ph: 044-22501534, Fax: 044-22501211,
E-mail: vrcchennai@hub.nic.in
VRC for Handicapped,
ATI Campus, Govind Nagar,
Kanpur-208022.
Ph: 0512-2296005, Fax: 0512 – 2296273.
E-mail: vrckanpur@hub.nic.in
VRC for Handicapped,
38, Badan Roy Lane, Beliaghata,
Kolkata-700010.
Ph: 033- 23508146, Fax: 033-23378358
E-mail: vrckolkata@hub.nic.in