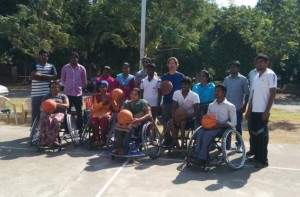 In his 50s now, Michael Rosenkrantz is living out his childhood dream — of travel, living abroad and helping differently abled people move ahead in life. His dream came true with joining Voluntary Services Overseas (VSO), an international development NGO that gets its volunteers to work with local partners to tackle disability, poverty, educational needs and other issues in the Third World. Michael was in Chennai recently to coach and guide a bunch of mobility challenged basketball players who have their targets set — winning medals for the country at the forthcoming Paralympics.
Training the coaches
Michael is known for building the Nepalese Army's wheelchair basketball team (of injured Army personnel) as for his efforts in getting corporate groups to invest in promoting sports for the disabled. In Nepal, Michael has made great progress and put in place a system to carry forward the movement. He trained Nepali school sports instructors and college students in wheelchair basketball coaching. Now, thanks to him, there are 60 wheelchair players in Kathmandu, who train every weekend. In Nepal, Michael also conducts sessions for children on life lessons from basketball. He says, "I would love to help build a wheelchair basketball team in India too."
In the city, Michael coached a group of physically challenged persons who are trying their hands on wheelchair basketball for the first time. He pointed to Jaganathan, one of the wheelchair players, and said, "If you ignore the wheelchair, you see at once that he is a natural athlete, he just needs some training to become a champion." There was also young Smitha, who works at Vidyasagar, learning the nuances of the game. Besides those aiming for the Paralympics, there are those who turned up to improve their fitness through wheelchair basketball, such as R. Shanthi, who arrived at the court on her converted scooter; A.P. Raja, an accountant; 60-year-old Uthira Ramachandran and a few others. All of them were delighted to take part in sports. There was also S. Anukanth, a first year student of MCC and State-level basketball player who stopped by to assist Michael.
All about team spirit
"While playing the Paralympics is part of the vision, disability sport is not just about winning medals. It is about inclusion, team spirit, and experiencing the joy and benefits of sports. It is great that so much is happening in disability legislation in India. The challenge now is in ensuring accessibility for the disabled in sports. This includes accessible sports infrastructure from on the part of the government, besides getting corporate groups to back disability sports," said Michael.
"In the West, corporate groups have stepped in to promote wheelchair basketball, by financing sports wheelchairs and other initiatives," he said. In Nepal, Michael had helped companies invest in and also gain from Corporate Social Responsibility (CSR) initiatives in disability sports. "As a volunteer working abroad, I have gained too — in terms of a getting an enriching experience, a global outlook and an appreciation of diversity," Michael said.
Originally, from Los Angeles, Michael obtained MBA from Northeastern University in Boston, MA Sociology from Boston College and a BA-Political Science from the University of California, Irvine. A man who wears several hats, Michael is also a freelance writer. Catch him on his blog.
While the group has five sports wheelchairs now, they need seven more to enable two teams with six players each to play against each other at a time. To help or participate in wheelchair basketball, call 98416-09601.
Are you mobility challenged and want to play basketball? Head to the Jawaharlal Nehru Indoor Stadium, where wheelchair basketball is practised at 5 p.m. every Saturday. This initiative is supported by the YWTC Trust and Choice International.