You are citizens of India. Your voice was heard and will continue to help make the difference. So Make your presence felt yet again. Go and cast your vote.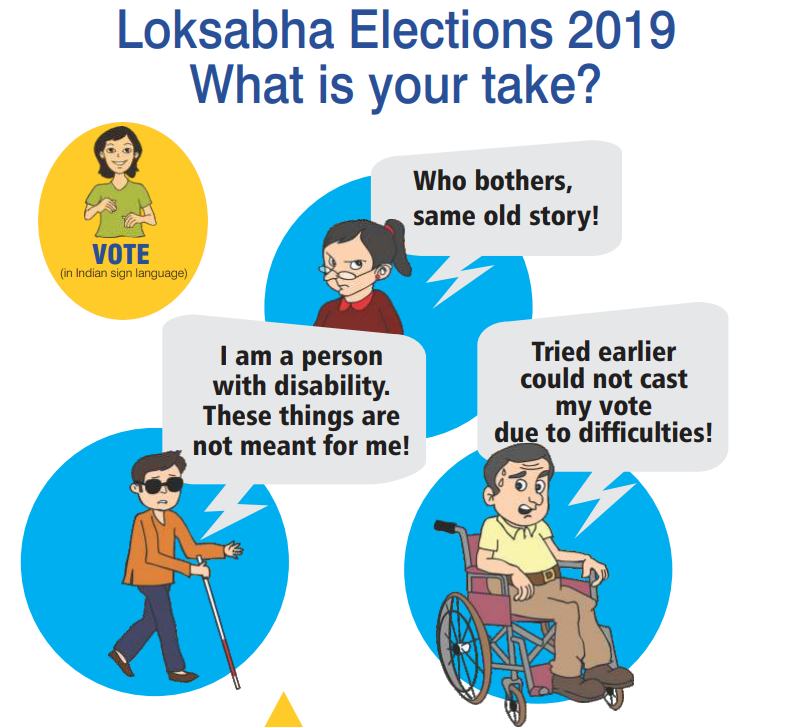 Assured Minimum Facilities for persons with disabilities
Signage
Parking for Persons with Disability (PwD) coming on wheelchairs or other vehicles (to be visible from the road)
After entrance arrow signs marks indicating the queue
Arrow mark indicating the polling personnel
Signage for Male/Female toilets
Signage for toilets for PwD voters
Signage indicating drinking water
Help Desk
Tables of 4' x 2 1/2' with provision for 3 people to sit – one BLO with booth slips, two NSS / NSC volunteers (1 male 1 female) to guide and assist the voters (especially the PwDs) entering the polling station

Ramp
Ramps should have an inclination ratio of 1:10 and not more than 1:14
Firm hand rails to be provided which should not be of shaky material
In case there are stairs to reach polling station, ramp should also be provided there
Toilets
Whether separate toilets for Male and Female voters available
Whether toilets are PwD-friendly.
Whether running water is there in the toilets
If running water facility is not there what arrangement has been done?
Drinking Water
Whether there is facility of drinking water

Separate Entry and Exit
Whether separate entrance and exit is provided in the polling station

If no separate entrance and exitis available, whether provision of rope separator/partition can be done? specify

Lighting
Electricity connection with two plug points
Minimum 1 fan
2-3 tube lights
Furniture
null
Height of the table on which the Ballot Unit is kept should be disabled-friendly
Sufficient moving space around the table for wheel chairs
FAQ

How can I register my name in electoral roll?
The basic process to register in electoral roll is to ll up a form. This is known as form 6. One needs to ll this up and attach necessary documents like photo identity proof, residence proof etc.
Where does one get this form?
If you have access and working knowledge of internet technology, then you can go to National Voters' Services Portal (NVSP) https://www.nvsp.in/Forms/Forms/form6 and ll up the form. Information here is available in English as well as in Indian languages. Here, you ll the form online and submit it online (or) You can visit https://eci.nic.in/eci_main/forms/FORM6.pdf. Take a print of form 6 from website and ll it with a pen. Attach necessary documents and submit the hard copy by visiting a VHC (Voter's Help Center)
What if one is not an internet user?
Form 6 is available at your nearest VHC. One can collect the form from there and submit it after lling it up.
What support will I get while casting vote?
All the polling booths are being made accessible to PwDs.
The election ofcers are being sensitized to provide necessary assistance.
Separate queue and priority voting for PwDs.
Positive and proactive attitude towards the possible difculties on the voting day by the staff, volunteers and community.


ref : Maharashtra CEO and ECI