Form 7A is a statutory document required under the Conduct of Election Rules 1961.
It is particularly of use to blind voters as it lists contesting candidates in the same order as the Electronic Voting Machine (EVM). Despite much advocacy by DRA, this document is still not completely accessible, but it is however readable. We've attempted to make the 200+ page document easier to navigate by bookmarking the list state and constituency-wise.
Ideally for security reasons it is best that ECI itself hosts this to prevent tampering. Since repeated requests to ECI highlighting this issue have not yet yielded an accessible document , DRA has bookmarked the same for usability. We will do so for upcoming phases too as soon as the documents are released by ECI.
Hope this helps & Happy Voting!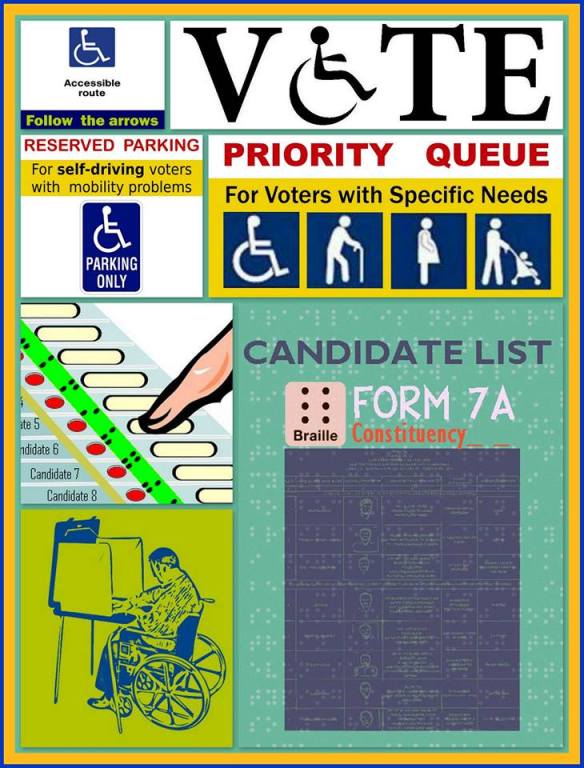 Format of Form 7A
The table's column headings are numbered 1 – 5 as usual government practice.
Number 1 : Serial Number
Number 2 : Name of candidate with photo
Number 3 : Address of candidate
Number 4 : Party affiliation
Number 5 : Symbol allotted – described, sometimes with photo as well
The following row wise category headings are merged cells.

Candidates of recognised National and State Political Parties.
Candidates of registered political parties (other than recognised National and State Political Parties).
Other candidates.
Please note :
The images have no alt text but the corresponding text is enough according to volunteer testers.
The serial numbers of candidates of all the three categories are given consecutively and not separately for each category in the list. The last 'candidate' on the list is always NOTA or none of the above.
Each EVM has 16 buttons with Braille numbered 1 to 16. Remaining slots after NOTA will be masked to prevent voting errors. If there are more than 15 candidates in a constituency a second EVM will be linked and marked by a Braille sticker on the top right hand side. A maximum of 4 EVMs can be linked this way, each numbering 1 to 16. For your convenience, in case your constituency has many candidates requiring multiple EVMs , you could consult the ready reckoner table provided at the end of this page.
ONGOING
PHASE 1 : 11th April 2019

LIST OF CONTESTING CANDIDATES FOR THE FIRST PHASE OF ELECTIONS https://eci.gov.in/files/file/9835-list-of-contesting-candidates-for-the-first-phase-of-elections/