It would be a noble contribution if our team could get any kind of sponsorship from your organization and need support to participate in 2nd National Wheelchair Cricket tournament and bring the winning trophy for team Karnataka. Currently Ranked no 2 in India.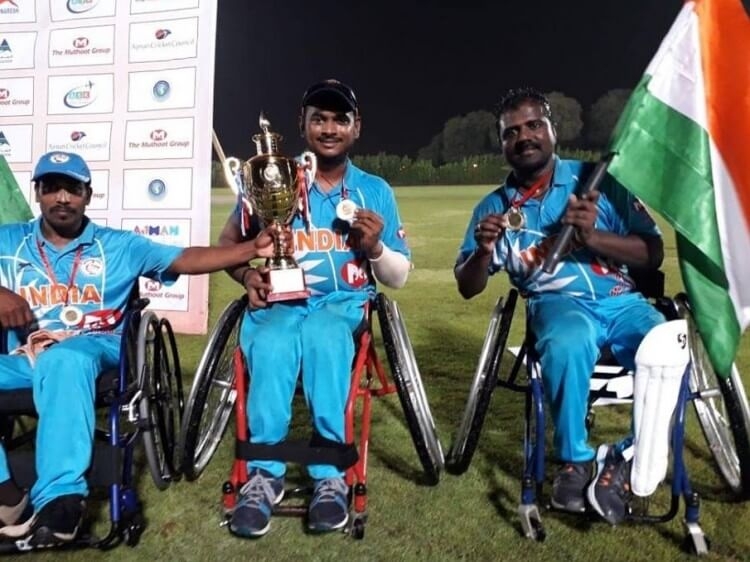 The expenditure break-up for the entire team (20 people) is as follows:
| | | |
| --- | --- | --- |
| S.No. | Item | Cost per head |
| 1. | Bangalore to Mumbai flight fare | 3000 x 20 = 60,000 |
| 2. | Mumbai to Delhi flight fare (Finals to be held in Delhi) | 1500 x 20 = 30,000 |
| 3. | Boarding and lodging fare (for 10 days) | 12000 x 20 = 240,000 |
| 4. | Delhi to Bangalore flight fare | 3500 x 20 =70,000 |
| | Grand Total | 400,000 |
Online Donation
Online Donation Link – www.impactguru.com
OR
Use the information below to make a direct bank transfer through NEFT/RTGS/IMPS.
Account number : 700701707040766
Account name : Divyaang Myithri Sports Academy
IFSC code : YESB0CMSNOC
(The digit after B is Zero and the letter after N is O for Orange)
OR
For UPI Transaction: supportdivyaang1@yesbankltd
Divyaang Myithri Sports Academy
Divyaang Myithri Sports Academy is a non-profit organization formed in May 2016 with the pious intention of uplifting para-sports in India. Para-sports as we know have been gaining quite some attention over the past few years in our country. We are devoted to work to encourage differently abled persons to take-up sports and help the qualified para-athletes to achieve their goals by providing specialized training, infrastructure, and equipment and assist them financially to participate in national and international events.
Over the past our NGO has achieved several remarkable milestones. We organized national wheelchair cricket tournament in association with UP wheelchair cricket associations for first time in India comprising 12 teams from 4 different zones. DMSA also organized South Wheelchair Cricket League in Bangalore from Feb, 2018 in which Teams – Karnataka, Tamilnadu and Kanyakumari participated and few more in the past ( details on our FB page) like Dasara Cup and South India Coaching camp. Currently Ranked no 2 in India.
Within two years of span we produce two Indian Wheelchair cricket players Shiva Prasad (Vice captain of India) and Tippeswamy (Opening Batsman).
Contact Details
DIVYAANG MYITHRI SPORTS ACADEMY
No 08, Kadirannapalya, Indiranagar Post
Bangalore 560038.
Email : divyaangmyithri@gmail.com
Mob: +91 99869 61117
Alt: +91 96201 15666
Regards
Divyaang Myithri Sports Academy